Learn how to balance hormones naturally with bio-identical hormone treatments. Improve skin, reduce belly fat, fix insomnia, and improve sex drive. Watch my interview with Angie Nichols, RN for balancing hormones using bio-identical hormones and start feeling beautiful again.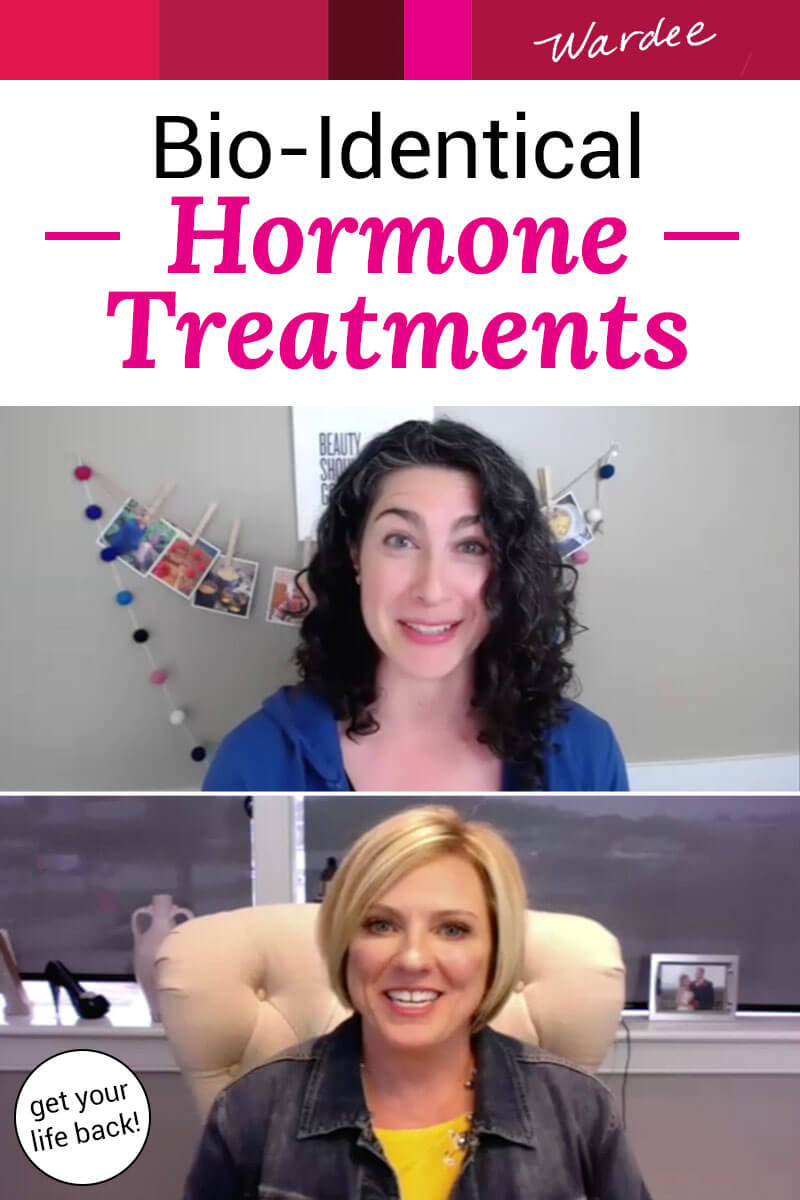 Life is hard enough…
Yet for the aging woman, entering or having gone through menopause, it can be even harder still because her sex hormones drop to practically zilch!
The pre-menopausal and menopausal hormone drops in estrogen, progesterone, and testosterone (which all fall to undetectable levels at menopause) causes older looking and sagging skin, more belly fat, loss of sex drive, trouble sleeping and focusing, and emotions being "all over the place".
And yet, this hormone decline also leads straight to more serious aging issues like increased risk of heart attack due to plaque build-up and painful falls and broken bones from loss of bone density.
No matter how you personally feel about each of those issues or risks I just named, it's a fact that menopause, and the declining hormone levels, can lead to a painful decline in quality of life and serious risk of disease. 🙁
For me, the answer to easing and preventing many of these issues is supplementing with bio-identical hormones … they have helped me "get my life back" and I'm so thankful to have access to them!
Would you like to learn how to use safe and effective bio-identical hormones to start feeling better again and to prevent age-related disease?
If you want to live a full, healthy, and beautiful life through menopause and beyond… then please listen to my podcast interview with Angie Nichols RN from Tier 1 Health & Wellness to learn how to use bio-identical hormones to balance hormones naturally.
We discussed:
the female hormones and what they do in our bodies and for our health
the best and safest forms of bio-identical estrogen, progesterone, and testosterone to supplement (and how to apply each one)
what natural hormone therapy replacement looks like before and after menopause …it's different depending on which stage you're in
why it's important for heart and bone health to address the estrogen decline sooner rather than later
what a woman can do if she's had a full or partial hysterectomy
the truth about the cancer risk …and why bio-identical hormones are safe and can actually prevent serious disease
how to find a doctor or provider that specializes in bio-identical hormones and other natural therapies
what questions to ask your potential doctor to see if he/she is the right fit for you
and much more… including PCOS and thyroid conditions that women so often have as well as the sex hormone decline!
Please set aside distractions and watch or listen to the video below. Or, if you prefer to read, the complete transcript is below!
Consider Bio-Identical Hormones
What are our options when hormone levels start declining?
We have to live it with it, right? We can't use hormone replacement because that causes cancer?!
Not necessarily!
There's a big difference between natural or bio-identical hormones (those that are exactly what our bodies make and use) and the hormones that are typically given by physicians.
In the book Hormone Balance Made Simple, Dr. Lee states:
Hormones are called natural or bio-identical if they are exact duplicates of what your body makes. In other words, the molecular structure of a natural hormone is identical to that of the hormones made by your body. This is an important distinction because the hormones typically handed out by your doctor are not natural; some of them are completely man-made and are found nowhere in nature, and others, notably Premarin, are made from the urine of pregnant mares. Hormones do very complex and specific jobs in the body by fitting into the part of your cells called receptors, much the same way that a key fits into a lock. Once the hormone is in the receptor, it gives the cell instructions. If the molecular structure is different, even by one atom, the instructions given to the cell are different. Hormones that aren't natural to your body give instructions that can be harmful.
Angie Nichols RN, my guest for this podcast, tell us the great damage that's been done because of people confusing bio-identical with non-natural hormones. (More in the interview above or the transcript below.)
No study to date, none, no medical literature is going to tell you that bio-identical hormones cause breast cancer, none. They actually give progesterone to treat breast cancer. Progesterone has been shown to be as effective in treating it as tamoxifen. Testosterone has been approved by the FDA to treat breast cancer. …no study to date has shown bio-identical estradiol increases the risk of breast cancer.

I can tell you absolutely that when you combine premarin and provera [not bio-identical], it will increase the risk of breast cancer.

That's very difficult for physicians to even understand. I'll hear a podcast sometimes on YouTube or whatever. And it's a physician giving a critique of the Women's Health Initiative [a series of clinical trials to address major health issues in menopausal women that used synthetic estrogen]. And they interpret what happened there as what will happen by giving bio-identical.

And it's not the same thing. You can't make that leap. …you can't extrapolate what happened there into what happens with bio-identical hormones. It's not shown anywhere in medical literature. There's just no basis for what they're saying.

But unfortunately, you know that people will get out there and say whatever they're gonna say and they don't necessarily back it up or they won't back it up, in that case, 'cause there's nothing to back it up with. But yet, damage is done. Someone heard the message and someone believes the message.

And so that woman, it may influence her out of fear to never get the thing that would really improve the quality of her life and prevent a lot of the degenerative diseases that you know, she may eventually develop. And it's unfortunate, but I understand that's how it is.
So sad.
I hope this information changes your life as much as it has mine. Please share this article with other women (or their husbands)! We need to correct the misinformation and help women feel better and age well. Here's an easy link for you share: https://wardee.com/hormonepodcast
Psst… when you're ready for more tips to help you turn back the clock a bit,
click here
to request my free eBook "10 Ways To Look Younger" …without toxic lotions or creams!
Do you use bio-identical hormones? How have they helped you?
Answer in the comments!
And now… here's the transcript for the video interview above with Angie Nichols RN from Tier 1 Health and Wellness.
Transcript: How to Balance Hormones
– Hi everyone, I'm Wardee and welcome to my guest, Angie Nichols. Hi Angie.
– Hi Wardee, how are you?
– I'm so great and I'm so happy to be visiting with you about this very important topic today.
– Thank you, I'm happy to be here and happy to share what I know with you.
– It's wonderful. Everyone, I want to just give you some quick facts about Angie. She has been a registered nurse for 25 years, however, she has this amazing specialty to help men and women with their hormone journey, specifically with bio-identical hormone and supplementation. And she's got, she's done a lot of teaching and traveling on this subject, and my husband and I have watched many of her and her husband's interviews. So we've always been impressed. So when this topic came up with our own audience and actually has been developing over the years, I thought I need to invite Angie to just come on and ask, answer all these questions that I and all the other women are wanting to know about the female hormone journey, specifically through as we age, pre, peri-menopause, and just optimizing hormone levels so we can have the best life. So Angie, I thought you were the perfect person to ask. And I'm so grateful that you're here.
– Well thank you so much for having me. You know, there's so little information that's available for women out there on hormone therapy. And so any time we have a chance to share that information, we want women to know that they have options. And so I'm happy to do it.
– Wonderful. So you and your husband have a practice called Tier 1 Health and Wellness. You also have a research facility. I don't want to get too technical into your bio. I'd rather just turn it over to you so you can talk a little bit about your practice and your specialty and how you came into it so we get a little bit of background on you.
– Okay, so over a decade ago, we, my husband and I, Dr. Keith Nichols, we both started experiencing symptoms of hormone deficiency. And we really had difficulty finding a practitioner that was able to help us. And so we spent about a year traveling the country trying to get what we felt was the best education that was available.
And so we found Dr. Neal Rouzier. He's a world renowned leader the the field of hormone replacement therapy. He has been our mentor for over a decade and he has become a personal friend of mine. And super knowledgeable on the topic of hormone therapy for both men and women. And so we've been training under him. But once we were able to figure out, with Dr. Rouzier's guidance, of course, and teachings, what we needed and what was gonna resolve our symptoms and what would help us to become healthier and stronger and happier and age better, then we wanted to be able to share that with other people.
When we first started, we really were just gonna share it with friends and family. We never intended for it to become our sole source of income. But as we went down this journey, you know, I think we're guided in directions that we're supposed to go and so the people that we worked with, our friends, family, they started seeing changes in us. And so they wanted to experience the same changes for themselves, and so we started helping them. Well as they felt better and got relief of symptoms and started functioning better, then they wanted us to treat their friends and family. And then the more it just grew, it's like okay, we can't just do this, it's gonna have to be a business. And so we ran the practice in Cookville, Tennessee for 10 years, and while Keith was running a spine and sports practice alongside.
So we were running two practices simultaneously, until it just became so much. And we did some podcasts. You know, technology is amazing. We did some podcasts. And people started seeing those podcasts and they started traveling to see us literally from all over the world. And once that started happening, we realized we needed to be near an airport so it would be more convenient for people to get in and out to see us. So we relocated last February to Chattanooga, Tennessee. And that's where we are.
And once we were here, we developed a center for research, or started a center for research. And we got Dr. Scott Howell to come on board. And we are studying, with the center for research, what we're really interested in is learning about and sharing, we want to raise awareness, about the endocrine disrupting chemicals that are in our environment.
You know, we are living in a polluted environment that unfortunately the majority of the population is totally unaware of what's going on. And so you know, our water is not the safest to drink or not the best for us to drink. It is causing issues. Processed foods that we have, the plastic containers that we drink out of, the flame retardant that we did on our furniture. I mean, it's everywhere. And we've had this knowledge for a long time. I mean you can go to the Endocrine Society's website and you'll see tons of information out there.
Back in 2010, there was a big Congressional hearing talking about the endocrine disrupting chemicals and all these scientists were trying to get Congress to do something about it. And from my understanding, there's not been a whole lot of progress made in that area. So we wanted to, you know, raise awareness and show the impact that these endocrine disrupting chemicals are having on our endocrine system. And that's why we're seeing so many of the hormone related issues at earlier ages now than we ever did before.
– Yeah, yes, it's such important work. And you're preaching to the choir and I know everyone listening is probably very aware of the endocrine disrupting issue. And of course we live it, because we start feeling very badly and we look for answers. So I'm glad that we're starting there because it's so important. We have to look at like what's causing all this disruption? It's not just aging, but we're actually prematurely causing problems.
– Absolutely. Well if you look at the fish in our rivers, you know, it's causing reproductive changes in the fish. And you know, we're an animal, too. And so of course, it's just the natural way to look at things is what affects them will eventually affect us. And it really already is affecting us. And we see that already. We have people coming in younger and younger with these hormone deficiencies or symptoms of hormone deficiencies that were previously only seen in older adults.
– Yeah, and you have a particular interest in PCOS. Is that correct?
– I do. Again, it wasn't something that we anticipated pursuing when we first started the practice. We were just looking at age related hormone decline. But as I continued year after year, we usually go to many courses each year. But every time we go to the courses, there were always, you know, maybe one hour or two of lecture on PCOS. And I would go, it'd just pique my interest. I wanted to see what it was all about. But the more that I learned about PCOS, it is the most common endocrine disrupting, I mean, I'm sorry, the most common endocrine disorder among reproductive age women.
And if it's not addressed early on, you know, then you can develop cardiovascular disease, diabetes, lots of mood disorders, depression, anxiety. It affects quality of life. And so it's something that really needs to be addressed. Women usually when they find out they have PCOS, it's only after they've suffered multiple miscarriages or struggled with infertility and they go to a specialist who then discovers it. More and more cases of PCOS, and I think a lot of it has to do with the environment.
Of course, it is genetic. We know that. There are different genes that contribute to PCOS.
And so when I saw the detrimental effect that it had on women, I was like okay, this is something we can't ignore. We gotta add this in the basket too. And so it took a little bit of time to sort of integrate that into something that we do. But then as luck would have it, about three years after we started treating PCOS, I developed it. And my daughter has PCOS. So women that have PCOS, if they have a daughter, there's a 50% chance their daughter will have it.
And it's commonly missed because you know, the name, for one, throws people off because really polycystic ovarian syndrome, you would think the cause is something with the ovaries. But only 50% of women that have PCOS will ever have ovarian cysts. So the root cause of it is insulin resistance, and it is genetic. So all the treatment needs to be focused on treating the insulin resistance.
You can't cure it, but you can absolutely manage it and you can minimize the symptoms through dietary changes, increasing activity, lowering stress. I mean you can certainly manage it. And then still sometimes you will need to supplement hormones. Women that have PCOS have lower thyroid production. And so by supplementing the, or addressing thyroid issues, then that will often help many of the symptoms.
And of course, you've gotta look at the insulin sensitizer, just like metformin and spironolactone is key, and then progesterone, because women with PCOS don't ovulate regularly, so they don't produce enough progesterone. So, and the lack of progesterone is what causes a lot of those mood disorders and the anxiety and depression. So you have to look at all of them and treat all of it.
And it's complex. It's like putting pieces of a puzzle together. There's a big myriad of symptoms that go along with PCOS. And you don't have to have them all to get the diagnosis. You just have to have enough pieces that you can put it together and see okay, this is what's going on. And the goal is preventing those longterm complications and breast cancer, cardiovascular disease, diabetes, all of that.
– Okay, well that's the perfect launching pad to talk about the delicate balance of a woman's hormones. So if you could just walk us through all the important women's hormones, what each one does.
– Okay, so women are complex. Men are so much easier. This discussion would be cut in half if we were talking about men. But you have to look at women and what stage of life is she in? So if she's in the reproductive stage, then the way that we address her hormones is gonna be different than someone that's menopausal.
– Sure, sure.
– Because once they've gone through menopause and their ovaries are no longer functioning, no longer producing estradiol, then we start to introduce estradiol. We don't give estradiol to premenopausal women or peri-menopausal women. That's only gonna make their symptoms worse. So let's see.
Let's start with progesterone because that's the one all women should have. Normally we make it on our own and it occurs with ovulation. It's the calming mood stabilizing hormone. It's the one that's really high during pregnancy. You may have heard some people say when I was pregnant, that's the happiest I ever was. I felt great. And it was because of progesterone. It also protects you against breast cancer. It's been shown to be as effective in treating breast cancer as tamoxifen, which is one of the drugs of choice they use to treat breast cancer. It also plays a role with bone development.
So there's many different uses. The old school of thinking used to be well if you don't have a uterus, you don't need progesterone. So women that had hysterectomies, they didn't get progesterone. And still some women don't get progesterone. But we need it. We still have receptors for progesterone in our breasts and in our brain, even if we don't have a uterus. So we need it for those beneficial effects. So we definitely look at optimizing progesterone.
The best way to get progesterone is a sublingual troche, which is a little round waxy disk that you put under your tongue. You can let it dissolve. It raises blood beautifully. Creams do not work. They won't raise it at all, not anything significant. I mean it'll barely get a blip on the blood work, although women get progesterone cream all the time. But in the blood work we see day in day out, it does not raise blood to therapeutic level. You can get it in a capsule form or a pill form. Prometrium is the commercially available form of progesterone. It is bio-identical, and so it's great.
The problem with that, is though, you only absorb 40% when you take it orally. And then it also causes you to be drowsy. So if you take progesterone capsules, they must be taken at bedtime. And since you're only absorbing 40%, it usually won't raise it to a therapeutic range. It will definitely raise it more than a cream. But it won't get it to the level that we're looking to achieve where you get relief of symptoms. So that's progesterone.
Okay, so testosterone is another one. Testosterone, we need it just as much as men. It does wonderful things for us. We just don't need nearly as much of it. So testosterone helps us to build lean muscle. It helps us be able to break down fat. It lowers our insulin resistance so that we can more easily lose weight. And when we have a healthy body weight, of course our inflammation is less and our risk for cancer is less, cardiovascular disease, our lipids are down. So it has a wonderful effect in that regard. It's also a vasodilator, so it'll open up your blood vessels and will reduce blood pressure. So lots of our patients are able to come off of anti-hypertensives once they've been on testosterone for about a year.
Let's see. Testosterone also of course improves libido and sex drive. It does improve strength and endurance. It improves muscle mass. It has great effects on your skin. So it increases collagen production in the skin and the elasticity, it improves skin elasticity. So it helps in that way. Let's see. It all sounds too good to be true, I know.
Sometimes whenever I'm telling women about it, or about all the hormones, but you know, our bodies were designed to have them. And when we lose them, we don't function the way that we were meant to. So you have to be careful with testosterone. You don't want to give too much. You can get some adverse effects. And we make sure we caution all of our women and inform them so that they can make the best informed decision for themselves.
If you get too much testosterone, or even sometimes just when you start, because your body's not accustomed to having it, you might get a little acne breakout. Usually that goes away after you've been on it a little bit. You can get some increased facial or body hair growth. And so we have things that we can do to deal with that if it becomes a problem. Also, let's see. If you get too, really crazy high levels, it can cause voice changes. Which we're not gonna put anybody's level at that range. It can cause enlargement of the clitoris. It does increase sexual sensitivity, as well as increasing drive. So that's testosterone. Do you have any questions about that one?
– Sounds like a great summary.
– It's a great drug. And it, you know, at any age. Sometimes people will say, well am I too old for this? And we've got people in their mid 80s to 90s that it's like well are you ever too old to feel better?
– Right.
– Yeah, I mean, so I want it as long as I'm breathing. I want all of my hormones to be working for me. And because when we don't have them, that's when we start to experience all of the decline that goes along with aging, all of the degenerative diseases that go along with aging, so.
All right, the other one was estradiol, you wanted me to talk about. Estradiol is the predominant female hormone. It controls many many things. And when you're premenopausal, your level is going to fluctuate up and down throughout your menstrual cycle. So if we tested it every day of the month, it's gonna vary greatly. That's why we don't give estradiol to premenopausal women, because if we test you on a day that you're low, and I've seen this with some patients. Their practitioner would test them and their level was low on a day that it should have been low and they said oh, well you're low, so we need to give you estradiol.
Well what do you think is gonna happen on days when she's naturally high and she's taking estradiol? She's gonna go through the roof and it's gonna cause major PMS type symptoms: breast tenderness, bloating, irritability, pelvic cramps, buildup of uterine lining which can lead to heavy bleeding. And so it's never a good idea in premenopausal women.
If you think about the cardiovascular protection that estradiol provides, it helps us in many ways. It does relax the vessels. So there's relaxation of the smooth vessel wall, which will help with blood pressure. It does lower cholesterol levels. And it helps to prevent plaque from depositing inside of our blood vessels. So you think about this. Young women do not die of heart attacks because they have all of the protective effects of having really great estradiol levels. So plaque is not building up in their vessels. It's only once they go through menopause and they lose the estradiol that then plaque begins to build up inside those blood vessels. So if we start estradiol immediately at menopause, we will not have the same type of plaque buildup that we would have if we go without it.
So, it also offers protection against osteoporosis. So it keeps bone density strong. 40 to 50% of women will die within two years of a hip fracture. And when women lose estradiol also, it causes a decrease in their static balance. So they're more likely to fall because their balance is off, and if they do fall, they're usually gonna break something. So it's a big killer of women. But it is 100%, well I won't say 100%, because in medicine, there's nothing 100%, but it is highly preventable. And it's a simple thing. Just maintain your estradiol, your testosterone, and your progesterone.
Let's see. It also helps to reduce visceral body fat around the mid section. That's a myth. A lot of people think that estrogen or estradiol causes weight gain. It will actually help you reduce visceral body fat. So it's important in that regard. It does help to prevent urogenital atrophy. So vaginal dryness, relaxation of the pelvic floor, which can then lead to urinary incontinence, painful intercourse, which can then cause relationship problems, you know. It all has just a, starts a negative cascade of events. So it helps in that way, as well. It does help with skin elasticity, too. When you take estradiol, you'll start to notice more breast fullness. So that's kind of estradiol in a nutshell.
– That was a great summary. And I only want to ask about the we don't give estradiol to premenopausal women. Do you do other forms of estrogen to premenopausal?
– We don't have a need to. We have not yet ever seen a need to while we're doing it. Because if they're premenopausal and they are having a menstrual cycle, they're producing plenty of estrogen on their own. It's gonna vary from day to day. But they're making it on their own as they should.
So as long as you're making it on your own, you would never want to take additional estradiol, because then on the days that you're naturally gonna be high, and you put more estradiol on top of that, that's gonna be like putting gas on a fire almost. I mean your symptoms of, you know, maybe too much estrogen is gonna be even worse. So the irritability, breast tenderness, bloating. You're gonna create a very miserable woman if you give estradiol to a premenopausal woman.
We see it all the time, and we, when women come to us from other providers and they've been giving it and they're miserable and they don't know why. And when we start looking, they're not menopausal. They should have never been given it in the first place. And then when we take them off of that and we give them progesterone to manage those symptoms instead, they get better.
– So that's great information. Could you talk to us just about the general aging process? And regardless of the endocrine disrupting chemicals, what is the natural kind of thing that tends to happen to a woman's hormones as she ages? And like just explain why is the period going up to menopause so hard? If you could connect the dots there with what's happening.
– Okay, so as we start to age and we start to enter peri-menopause, which is the time that is leading up to actual menopause. So menopause is defined as no period for one year and it's the last menstrual cycle that a woman has. At that point, she becomes unable to reproduce. So peri-menopause is the period of time that leads up to that.
And so during that peri-menopausal stage, it is the most difficult to manage because hormones fluctuate. They can be very erratic, they can be up and down. That's why you get a lot of those symptoms that make peri-menopause so difficult to manage.
I heard one OB/GYN one time describe it as the ovaries are sort of like a car that backfires. And you know how you have that sudden release of, you know, with a car, an emission? And it's like that with the ovaries. You'll get these sudden surges of estrogen. And when you get those surges of estrogen, it can raise levels that will cause hot flashes. And the way you manage a peri-menopausal hot flash is not to give estrogen like you do post-menopausal. But you give progesterone to balance out. It's actually, if you measured a woman's estradiol level during a premenopausal hot flash, it's gonna be like in the 500s.
So the way that we give it or treat it is gonna be give enough progesterone to counteract that. So that's kind of what's going on is it's sort of the ovaries' last hurrah, you know? It's trying to continue to produce but it's doing so at irregular rates. And nothing is consistent. So during that period of time, periods will become more irregular and they will become generally heavier.
And a lot of women will describe it as they can sense that something is wrong and that they're not quite themselves. A lot of women will report irritability, depression, anxiety, weight gain despite diet and exercise, which leads to lots of frustration because it's like I'm doing all the things that are right. Why is this weight still here? A loss of sexual interest starts to occur about this time with the decline of testosterone.
And so it makes it really difficult for a practitioner to manage because you're still producing on your own, so we have to evaluate. And you can't regulate what your body is producing. So you just have to sort of counteract it with progesterone, testosterone.
Thyroid of course is important during this time, too. A lot of women will experience day long fatigue, dry skin, brittle nails, constipation, depression, anxiety. And also with thyroid, when you get thyroid, it helps improve cholesterol levels. So there are like 200 different symptoms that are related to thyroid deficiency. So, and around age 40, it starts to decline. So we need to always look at that in addition to everything else.
Cold intolerance is also included in thyroid deficiency, as well as that just day long fatigue. And for me, the best way that I could describe it when I was going through it was I was just so tired. But as long as I was moving, I could do the things I needed to do. But once I got still, like the car ride on the way home, it was just so difficult to keep my eyes open. And I felt as if I was just dragging myself through the motions of life. I did what I needed to do because if I didn't, who was going to, and it needed to be done. But there was no real joy in it.
And when I went to my gynecologist, he was very straightforward and honest with me. He said Angie, I'll be honest. What you're describing to me is all hormone related. But I don't have time to learn all of that. I'm busy delivering babies and performing hysterectomies. And so I was, you know, I appreciated his honesty. But you think if a gynecologist can't tell me about female hormones, who in the world do you go to?
And that was during the time that we started trying to figure all this out on our own. And so, anyway, that's leading up to menopause. And then menopause, once you pass through menopause, it's so much easier to manage because you're not having to factor in what the body is creating on its own. And so once we figure out the dose that puts a woman in an optimal range and relieves her symptoms, then it's pretty much steady stable smooth sailing from then on.
Now there are times that a woman, you know, it can change what she requires. Periods of stress, physical stress, like a really rigorous exercise regimen, if she starts, you know, maybe training for a marathon or something like that, or also surgery, illness, injury. Things like that can alter the amount of hormones that we require. So we have to, if a woman starts to notice a decline in her overall wellbeing or she starts to have a return of symptoms, then of course they come back and we talk about it and figure out what labs we need to do and go from there.
– Although woman changes for her whole life and there's that decline 'til menopause, we basically have menstruation and then we have menopause. So could you talk about optimal levels that you would want to see for most people of the sex hormones during those two periods of life? So for starting with a menstruating woman, like what should her testosterone be, her estradiol, her progesterone, given that it's cycling? But like if you recommend Day 21 testing, what numbers would you want to see? And then do the same thing for a menopausal woman. What are optimal levels where she has all the benefits of all the hormones?
– For a premenopausal woman, an optimal level is gonna be what relieves her symptoms. So your optimal level is gonna be different than mine and different than the next lady. So we're all very different. Different genetic makeup, different chemicals and things that we're exposed to, different stressors, different activity levels, all of those things. So because we're not trying to control a premenopausal woman's estrogen, for instance, we're not looking at, it's gonna be what it's gonna be every day. That's just, you know?
But for say progesterone, we will start a dose of progesterone based on what she's telling us her symptoms are and what her lab work looks like. And then we just want to measure a response. We're not saying we want everybody's progesterone level at pre-menopause to be 15. Usually, it takes a minimum, though, of 10 before women start to tell us that they feel better, that they are having less cramping, not as much irritability, you know, that kind of thing. So usually, that's where they get symptom relief.
Some women will need more. Some women will need less. We've got one lady, I mean she takes, her level is probably 80 or 90. But that's what she needs. Otherwise, she has severe debilitating anxiety. And so it's really very much individualized for each woman.
For testosterone, it really depends, as well. Some pre-menopausal women will not even need it, and others will. It just really depends on the woman. But so for a menopausal woman on testosterone, generally we see relief of symptoms in most women around three to six of a free testosterone. Generally. And of course, some women, they might get to 2.5 or two, and they're like okay, I don't want to go up at all because if I do, you know, my sex drive is just gonna be through the roof and I might get myself in trouble, and you know? Looking at the guy in the grocery store.
And so you want to keep it appropriate for each person and what they feel and function their best. Got some women, I've called them back and said okay, Dr. Nichols says your testosterone level is really too high. We need to back it down because you are at a high risk of developing acne, facial hair growth, body hair growth, enlargement of the clitoris, voice changes. And she's like, is that all, really? I mean she's like I don't care about any of those things. I just want to feel and function. Because she feels better and actually now is able to have a relationship with her spouse, a sexual relationship, that she hasn't had in 10 years. So you know, we have to look at it, we will still encourage her to bring it, we need to bring that down. But it's really about treating each person as an individual and getting the levels that we need to relieve their symptoms.
– Mhmm, okay. Really quick about like when you do labs for those women, do you do it on Day 21, and do you do it at a certain time of day based on they're gonna have their hormones, like their supplementation at a certain time of day?
– No we do not. And the reason is we're not testing estradiol in a premenopausal woman, so it doesn't matter what day. Because we're not gonna try to manage that estradiol. A lot of doctors, they want to cycle hormones, even in post menopausal women. And so you know, they choose to do it that way. It's just not how we choose to do it. We have women test their hormones after five hours after they have taken them in the morning. That way, you know, we see where their level is.
For testosterone, they don't apply it the morning of their blood draw because if they apply it that morning and then go get their blood work done an hour later, it's gonna give us a false high reading. So we don't do that. But no, we don't have a set day that we have them do it. We just do four weeks after they begin. And we continue to monitor them every four weeks, four to six weeks, so that we can see how they've responded to the adjustment that Dr. Nichols made.
– Talk a bit more about how thyroid fits with this. You were telling me before we started the interview about you know, the percentage of women and the ages and things. So just briefly address that, how it fits with the other sex hormones.
– Right, so women tend to be much more needy of thyroid than men. And so about 80% of thyroid patients are women, 20% are men. So as we age, thyroid production starts to slow down. Thyroid controls, as I said before, all those things: metabolism, temperature regulation, mood, immune function, ovulation, the whole menstrual cycle. It's so many things, hair, skin, nails. And so as we age, our production of thyroid goes down.
And so a lot of this fatigue that women have, especially when it's day long fatigue, or they have thinning hair. My hair never looked thin, but there was hair like always in the drain after I took a shower or on the countertops and in my brushes. And I just thought that was normal. That had how it had been always for me. But, and I was always cold, all the time. Cold intolerance is huge. But it wasn't normal. And so once we got my thyroid in an optimal range, all of those symptoms went away.
And it has dramatically improved the quality of my life because before, you know, you'd go to a restaurant or a movie theater and it's always freezing cold. And so I would be trying to hurry and eat, hurry to finish so you could get out, because you're just miserable. And you didn't enjoy it. And so when we get thyroid in a good range, no worries with that at all. You can sit and enjoy it comfortably and not worry about all that.
– Although we've been addressing the hormones and supplementation all along, let's transition fully to supplementation, because it's clear that women's hormones will decline as we age, also with endocrine disrupting chemicals, stress, and whatnot. And then of course, there is the change of menopause when they basically, and you said this in another interview. You said they basically fall off a cliff or something and they are the equivalent of a male being castrated. Like there's–
– Menopause, yeah, yeah, it's an endocrine failure, essentially. I mean when you go through menopause, hormone production shuts down. And so when we test levels of someone that's menopausal, oftentimes we will see estradiol level is too low to measure, progesterone level is too low to measure, testosterone is too low to measure. And if we need those hormones for all of those things that I've listed out, you know, would it ever be in our best interest to be zero or too low to measure? You know, of course not. But that's what happens to women.
When women come into the office and we talk about this, I always tell them and try to get them to relate and understand this, because for me, it's easy to see so clearly. It's like you and I, just like every other female in the animal kingdom, we were put here for one purpose, and that's to reproduce. And once we've served that function, as harsh as it sounds, the next step for us, as far as biology goes, is to move out of the way, let the next younger herd come in so they can carry on the process of reproduction. And that's just how it goes.
Because nature doesn't need for those of us that aren't contributing to the reproductive process to use up resources that the younger herd needs to have in order to stay strong and healthy and capable of reproducing. And so that's what it does. It shuts down the hormone production. And when that occurs, it will rapidly accelerate our physical and mental decline that will eventually get rid of us. You know, when we lose our estradiol, heart disease develops. 90% of women will succumb to heart disease.
And if we can maintain the estradiol to prevent the plaque from depositing, then why would we not do that? If we would, you know, maintain testosterone levels so that it keeps our insulin resistance low and keeps our bones strong and helps us build lean muscle and improves endurance and all these things, why would we not do that?
So same thing with progesterone, and all of the hormones, really. Vitamin D and melatonin, too. Those are very important antioxidant hormones that we also look at. But that is just the circle of life. That's how we were designed, and that's how it works.
– Mhmm, that's a very telling analogy. And I guess from my perspective, while I share your perspective, I think that if I'm gonna go through menopause by the time I'm 50 or 55 or whenever it ends up fully happening for me, I'll have, well however long the Lord allows, but probably 20 or 30 more years. I mean I can either thrive or I could fall prey to the things that we've been talking about, which is lack of bone density leading to breaks leading to death, heart attacks, simply because the hormones are not there giving all those benefits and protection against those diseases. So the last 30 years of my life could be very productive and happy with healthy aging, but balanced hormones without those huge risks, or there could just be a very sharp steep decline.
– Exactly, that's the thing is you know, we're not looking to live to be 150. But we want to try to compress the years of morbidity or the degenerative diseases, we want to compress it. Instead of spread it out over 20 or 30 years, let's try to compress that down into the last maybe five or so years if we can. We all experience accidents and sudden illness that we have no control over. But if there is something that we can influence, why not influence it?
– Yes, and I think it's hard to discuss or really envision like the falls and the heart attacks and whatnot in our life. But it's so much easier to think about the struggles we've already had. Or I think about the thyroid struggles or the peri-menopause struggles, or the things I've already dealt with in the last few years that have made life very difficult. And to think of that increasing tenfold, and then I'm still supposed to carry on and be a good wife and be a good mom and still keep working the business and doing all those things, I just think how is that even gonna be possible?
– Absolutely, and that's the thing that most of the time, we really never even talk about, is we're talking about the physical things, the medical things. But you know, we see it in practice all the time because we have so many people that we see and we follow and we come to know them and what's going on in their lives and things like that. And we see them come in and share their stories. But just the psychological aspect, and the thing that goes on within the family, the family dynamics, and all of that, it can be dramatically impacted when a woman loses her hormones and begins to decline.
You know, I mean I've had women come in and their children were with them. I remember one teenage daughter, she was like you have got to do something with her. She was funny. And the mom said, she's like I know, I'm out of control. Like I can't control my emotions. I'm raging with anger, and I don't want to be this kind of mother for my child. But it's beyond her control. Or you know, sometimes there's unevenness as far as sex drive goes with men and women.
And you know, the man can sometimes, if the woman has no interest in him whatsoever, then you know, it starts affecting him. And then you know, it can lead, it can just lead to problems. And vice versa. I mean, you know, it goes both ways.
So whenever we're talking to couples, we always want to tell them make sure if one of you is gonna be on a hormone therapy program, it's always a good idea for both because you don't want to be on an unlevel playing field. And if one person starts feeling well and they've got better energy and their sex drive is good and the other one wants no part of it, it will create problems. So you know, we're trying to treat the whole individual, and also that includes relationships and work.
You know, we've had people come in and say I just want to be able to work 10 more years, or five more years, I want to be able to lift the boxes, you know. He worked at FedEx. I want to be able to continue to lift boxes. And that's why he came in. So people come in for different reasons. They all have different goals. And so we have to look at what that is and try to work to address those.
– Sure. Well you've made a very good case for why women should consider supplementation. So let's talk now about the different options women have. I think the biggest one is do I go conventional, what my OB/GYN or my whatever, primary care doctor is telling me, or do I go with bio-identical hormone replacement therapy, which is what you represent and many other alternative providers. So could you make the case for why bio-identical is just the only thing you should consider?
– I mean we have tons of studies showing what happens when we use non-bio-identical. A great example of that was the 2002 Women's Health Initiative [a series of clinical trials to address major health issues in menopausal women], which used synthetic estrogen. And not all estrogen is the same. But it was premarin was the estrogen used in that study, which contains 10% estradiol. And the rest is about 10 or 12 different equine estrogens.
So the estrogenicity, or potency, of a horse estrogen is gonna be way stronger than what the human body can tolerate. So whenever they combined premarin along with a synthetic progestin, not bio-identical progesterone, totally different molecular structure, when they combined it with a progestin called medroxyprogesterone acetate, or provera, they combined the two, it increased the risk of breast cancer so much so they stopped that study prematurely. What started to get publicized is oh my gosh, hormones call cancer, no one needs to be on hormones.
What should have been learned is when you combine a synthetic estrogen and a synthetic progestin, it will increase the risk of cancer. That was it. It wasn't throw it all out, all hormones are bad. It was don't combine these two. So actually, the premarin-only arm of the study had a slight reduction in the risk of breast cancer when it wasn't combined with a progestin. We would still never use a synthetic estrogen, because any time that we can replicate what the human body produces on its own, then we're gonna get a better result with fewer side effects.
You know, if we can have what nature gave us and what it intended for us to have, that's gonna be our best option. So some, I mean traditional doctors, you can get estradiol commercially available. It is mass-manufactured. It's very economical. It's usually about a four or five dollar a month prescription, and it is bio-identical estradiol. So you can still, and a lot of doctors are now prescribing it for their patients if they're willing to prescribe hormone therapy at all.
– Yeah, the cancer issue, that is what I hear a lot that women say, just from my work online, I've mentioned to menopausal women, you might want to look at, I'm not giving medical advice but you might want to talk to your doctor about such and such. And they talk to their friends or they talk to their doctor and everyone says no, it causes cancer, you can't do that. So whatever you can say right now, Angie, to set the record straight, that bio-identical estrogen replacement therapy does not cause cancer. And can you also talk about the progesterone balance?
– Yeah, absolutely. No study to date, none, no medical literature is going to tell you that bio-identical hormones cause breast cancer, none. They actually give progesterone to treat breast cancer. Progesterone has been shown to be as effective in treating it as tamoxifen. Testosterone has been approved by the FDA to treat breast cancer. There's a doctor in Ohio, Dr. Rebecca Glasser. She implants testosterone pellets into near breast tumors, and has phenomenal results.
I don't know what more you can say on that, other than no study to date has shown bio-identical estradiol increases the risk of breast cancer. I can tell you absolutely that when you combine premarin and provera, it will increase the risk of breast cancer. That's not the same thing. Premarin, I mean provera, medroxyprogesterone acetate, is not the same as bio-identical progesterone.
That's very difficult for physicians to even understand. I'll hear a podcast sometimes on YouTube or whatever. And it's a physician giving a critique of the Women's Health Initiative. And they interpret what happened there as what will happen by giving bio-identical. And it's not the same thing. You can't make that leap. You cannot make that, you can't extrapolate what happened there into what happens with bio-identical hormones. It's not shown anywhere in medical literature. There's just no basis for what they're saying.
But unfortunately, you know that people will get out there and say whatever they're gonna say and they don't necessarily back it up or they won't back it up, in that case, 'cause there's nothing to back it up with. But they can't back it up. But yet, damage is done.
Someone heard the message and someone believes the message. And so that woman, it may influence her out of fear to never get the thing that would really improve the quality of her life and prevent a lot of the degenerative diseases that you know, she may eventually develop. And it's unfortunate, but I understand that's how it is.
I mean I've got a prime example with my mother and my grandmother. My mother is 72, my grandmother's 91. My mother, two women, same genetic makeup, she had a hysterectomy very early. I now know it was probably PCOS related. And it was endometriosis. She didn't have enough progesterone, which is what's used to treat endometriosis. So she had a hysterectomy very early. She had a very forward thinking doctor who told her if you don't take estrogen whenever we do this hysterectomy, you're gonna become an old woman very quickly. So she didn't want that.
So she took the hormones. She took premarin. Didn't take any progestin, thank goodness, no medroxyprogesterone acetate. Because she didn't have a uterus, they thought she didn't need it. So she only took premarin up until 2002. And when that health initiative study came out, her doctor, not the same doctor, a different doctor, said oh my goodness, this is gonna cause cancer. You can't have it. He took her off of it briefly. She did not do well at all, at all. I mean she had many mood changes.
She finally went back to him and she said look, if you don't give me back my hormones, we're both gonna be on the front page of the paper because I'm gonna do something harmful to my husband. So he didn't want to be responsible for that, so he gave her hormones back. And she was on premarin up until she started hormone therapy under Keith. And so she's got the bone density of a 20 year old.
She's, I mean, I have taken her within the last three years ziplining, parasailing. We've done all kinds of things. She gets out and jumps on the trampoline with the grandkids. I mean she is a very vibrant, vivacious, healthy individual. And it's, a lot of it is just hormone related. I mean yes, she's always been active and ate well and exercised, but hormones have played a huge role. And she will readily admit that.
My grandmother, on the other hand, same genetic makeup, her husband didn't want her to take hormones, had heard they were bad. She never did. She, her bones are like chalk. She has pretty much had every joint replaced, broken many many bones. The doctors say when they try to put a screw or something in, they just disintegrate. It's just, it's literally like chalk. And it's because she has gone 40, 45 years with no estrogen. And that's what happens.
So we know what happens when you don't take it, and we know what happens when you do. It preserves and protects your quality of life. So you know, women need to, I feel like our job is to provide as much education as possible so that they can make an informed decision that's best for them. And you know, as long as you get it from somebody that's knowledgeable and gonna give it to you in the correct form, we don't care who it is, you know? Just make sure don't go without it because it will dramatically change your quality of health in 20 or 30 years versus not doing it. No doubt about it.
– I know you alluded to this earlier, but I want to bring it out right now, which is when you're talking about bio-identical hormone replacement therapy and you're specifically talking about estradiol to prevent plaque buildup and loss of bone density, really the optimal time to start that is right at menopause.
– Early at menopause. Another thing I just thought of, I forgot to mention it when you said that is women that have taken estradiol for 10 years or more have a fivefold risk reduction in the rate of Alzheimer's. So you know, you think about keeping vessels open and that also goes for vessels in your brain. But it also prevents the beta-amyloid plaque from depositing inside the brain, which is what causes the Alzheimer's. So fivefold risk reduction in Alzheimer's. And then also a reduction in vascular dementia.
– Wow, so pretty significant reasons to start early, early as in at menopause.
– Yeah, because you want to prevent it. And even in the Women's Health Initiative, the women that had issues with blood clots, there was 30 out of 10,000 women during the Women's Health Initiative. 30 out of 10,000 experienced a blood clot. None of them died, but they did develop a blood clot.
Okay, the women that they used in the study were over 65 years of age, or around that. They may have been a little bit younger. But they were, had been well out of menopause for 10 years. They had high BMIs, some of them were smokers. So we're talking about a really high-risk population of women already. And they've gone 10 years without estrogen, you've been without menopause 10 years, you're gonna have some plaque in the vessels. If you're overweight and you're a smoker, that increases the risk even more.
So giving this really potent horse estrogen, only 30 out of 10,000 ruptured a plaque. That means 9,970 did not. Had it been one less, they would not have even probably reported on it. But nonetheless, they did. So what we should have learned from that is not oh my gosh, it's gonna, hormones, all hormones, are created equal and all hormones are gonna cause a blood clot. What we should have learned is give it early so that that plaque doesn't develop in the first place. Had those women been given estradiol at the time of menopause, they wouldn't have had that level of plaque buildup in the vessels.
– Sure, that's a really good point. So let's talk now about forms of bio-identical hormones you use in your clinic, and just kind of recommend your own reasonings, I know you talked about progesterone already, the troche is better. Talk about the form of testosterone and the form of estradiol.
– Estradiol for sure an oral form. And we like the commercially available because it is the same exact, it's bio-identical, and it's the most economical. You know, we want to try to make it so that everybody can afford to be able to, you know, supplement their hormones and have the best protection that they can. And so it's a very inexpensive way to get the estradiol.
But it also has a more positive effect on cardiovascular health than a cream. So when you apply a cream, it doesn't pass through your liver. It doesn't affect the clotting factors. And so you don't get as much of that protection as you do by taking it orally. So that's why we go with oral. Now if we have a woman that's at really high risk of blood clot and has a bunch of risk factors, then she's most likely gonna get a cream. She's definitely gonna get a cream if she's high risk.
So but no study using estradiol has ever shown an increased risk of blood clots, just like it's not shown an increased risk of breast cancer. Not any studies. Not the same for premarin. But for estradiol, there's been no risks. So that's how we prefer the estradiol.
– You ever do the, or if it's oral, then biast and triast, where it's two forms or three forms, is not an issue. You only do estradiol oral? Well that's you're preferred, estradiol oral.
– That's the preferred because it prevents that plaque buildup in the vessels. It gives you more cardiovascular protection.
– And you don't see any benefit to doing the estrone or estriol?
– Nope.
– 'Kay.
– Not at all. Let's see. Testosterone is a cream. It absorbs very well that way. It's very easy to apply, it's easy to travel with. Comes in a little dispenser, it looks like that. Comes with this, and people, I use this as a demonstration tool. And we have them apply it and it absorbs very well.
– Where do you have them apply it?
– We have them apply it perivaginally, so around the outside opening, around the vagina, on the external portion, that's where they apply it. When you apply it in that area, you're removing any risk of then transferring it to someone that should not come in contact with it, so a baby, a child. We always caution our patients be careful about skin to skin contact with someone that should not have it. So as long as you wash your hands, you apply it there, there's no risk to them. A male it won't affect, because the dose that he can tolerate is so high compared to what yours is gonna be that it wouldn't even affect, it would not affect him.
– Could we talk about standard starting doses of these? Like the progesterone troche, the estradiol, and the testosterone cream? What is, what the regular ones are?
– It kinda depends really on women. Some women will start lower, some will start, we start all women low and slow because we want to avoid negative side effects. But some we will start lower and slower, and then some women, it just kind of depends on the women. So probably a minimum starting dose, I mean we could even go lower than that because that's the great thing about compounded testosterone is you can put any concentration in there that you want. So we, you could, typically the lowest we start would be like a 20 milligram per gram testosterone concentration. And they just do one click, which is a quarter of a gram.
– Five milligrams.
– Could be five milligrams. And they would get to do that perivaginally at that time. Let's see, for progesterone, troches, usually a 200 milligram sublingual troche. We have some that they can't tolerate a 200 milligram, and so we'll do 50 milligram troches instead. But they may take multiple ones to try to get to that 200. 200 milligrams is the maximum amount you can pack into a troche, because it's a flippy hormone and it just, they can't get it in there. For capsules, we can fit as much as 300 milligrams in a capsule.
– Progesterone, we're talking?
– Progesterone, mhmm, that's the most you can pack in that. And so we have some maybe a little more or a little less. It just, it really for women it's individualized so it's hard to put a, you know, everybody gets this 'cause it's just not like that. But for estradiol, if we're gonna go oral, the commercially available is either a one or a two milligram tablet. So we'll start with a one milligram and see how they do. And then we'll increase it as we need to, or we've got a few women that that was what they needed, and we had some that they had to come down a little bit and they just get .5. So not very many of them only need that little.
– Okay, so let's talk about women who had a partial or complete hysterectomy. Do the whole course on all of them, or do you adjust? How does that work.
– We have to determine, there's a little bit more, they take a little more research. So we have to determine are the ovaries, if the ovaries are still intact, are they still functioning? And so we do some lab work to determine if those ovaries are still functioning. Because obviously, they're not having a menstrual cycle. So if the ovaries are functioning, we leave it alone. We treat them just like every other premenopausal or peri-menopausal woman. And then once the ovaries no longer are functioning, then of course, we will start treating them as a menopausal woman.
– So yeah, that makes a lot of sense.
– Yeah, you can do an FHS and LH test, and also combine it with an estradiol and you look at all of them together. And of course, they'll show symptoms. But then that will, that'll give us the information we need to determine the course of treatment.
– Great, sorry about that beep.
– That's okay.
– I had everything off but one thing, I guess. All right, so I know you and your husband, Dr. Keith Nichols, have your practice. So if someone was interested in seeing you, tell us how that would work. But if somebody's interested in like finding somebody locally to them, what should they look for? So could you advise on both things?
– What I would recommend if somebody is trying to find someone in their area is you want to make sure that it's somebody that specializes in bio-identical hormone therapy and that has had a lot of training and that you can go to and sit down and they will explain things to you if you have questions. And you know, when you go, you'll get a feel for them when you sit down and talk to them.
And if they're willing to show you, you know, I'll tell people don't take my word for it. Go to these resources that I'm gonna provide you and do your own research. You know, patients have to be their own best advocate. And you know, you have to be an active partner in your healthcare. And so we want patients to understand why we do what we do. We provide them with tons of information. And any practitioner that is providing them with healthcare should do the same. And so I would look for that.
You can always go to the World Link Medical Directory. They have some physicians that are certified in there. But you still have to, you've gotta really be careful about, you know, just like my gynecologist. He was a great gynecologist, but he was honest enough to say I don't have time to learn all that. Dr. Rouzier teaches the courses through World Link Medical.
At least if you see them there, you know they've had some training from him. But you just have to be very selective in who you trust with your healthcare, and that's any type of healthcare.
So but we can work with people. Dr. Nichols is licensed in California, Florida, Alabama, sorry, yeah, Alabama, and Tennessee. So people in those states, we can do telemedicine with them so they don't have to actually make a trip here. The other states, people will travel to see us. They have to see him one time to become established as a patient. After that, we can manage their care remotely. They get blood work done at a Lab Corps or Quest near where they live, and we work with them that way. So people if they're interested, they can go to tier1hw.com and they'll get our phone number and they can find us through that website.
– I will be sure, everyone who's listening, watching, to include a link to Angie's website with this video. I think my last question is if you could give us any kind of discernment when we are investigating doctors. I mean I've spoken with you and I've had a couple other doctors. I know every woman's different so you try different things, what works for you. But I would prefer to start with somebody who is knowledgeable like you. So when you're evaluating your doctors, are there any questions that you could give us to ask that we could find out if they're like you and Keith? Or similar.
– Well I think it's always a good idea for any physician, even if you're going for surgery, how many patients do they treat with the disorder that you have? You know, how many patients do you treat with this? And you know, what do you see and how? Just ask the questions. If they're willing to answer your questions and take time to show you things, I mean, when people come here, we'll spend at least an hour with each person explaining things and we give them all kinds of resources, and Dr. Nichols will bring up studies on the computer and he will send, email them.
And I'm sure they probably get more than they really want to know. But we want people to understand that what we're telling you is supported in medical literature and it's not just take our word for it kind of thing. Anybody that you go and talk to about becoming a patient should be willing to provide you with information that supports what they're doing, not just this is how I do it with no explanation of why.
– Yeah, yeah, I think that's great. That's really important and certainly something that my husband and I look for.
– But it's really hard, you know? I mean–
– It is hard.
– We struggled for a year to find somebody and we're in the medical field. He's a physician, and he couldn't get adequate help. So it's very difficult for someone in the general public with no medical experience to decipher, you know?
– And I think we should also add that although you and I, Angie, have been speaking about women, that your practice is for men and women. And so anyone who's listening to this, if you think your spouse needs help, as well, to consider all these issues for them, too.
– We have an equal number of men as we do women.
– And are they represented like husband wife, husband wife, husband or are they kinda–
– A lot of times they are, but not always. I would say it's a good mix. But it's always good when couples come in together. That shows they've got, they're on the same page, they're working towards the same goal, and they're concerned about their health. They want to preserve the best quality of life for them and their spouse.
– Well I certainly have to credit my husband for my current state of health, because the first doctor that we visited was for my husband. And the doctor said, after we dealt with my husband, he turned to me and said now what about you? And I wasn't even supposed to, you know, be part of it. And then I looked at my husband and he looked at me and he was like share. Anyway, and that's where my path to really healing a lot of things started, so. It's been great for both of us to do it together.
– Sure, absolutely.
– Well thank you so much for your time, Angie.
– My pleasure, thank you.
– And I'll close everyone by saying check out Angie's website link (tier1hw.com) if you are intrigued at all of the possibility of seeing her and her husband for your own hormonal journey. And of course, to keep in touch with me and let me know how it goes. I'm here for you, too. Thanks everyone, God bless you, bye bye,
– Bye bye.