Boost your metabolism and increase energy levels… by eating the foods that are right for YOU! Some people are best fueled by fats, some by carbs, and some by both fats and carbs. Here's how it works, plus how to find out your type, without dieting or undereating!
Are you low energy? Sleepy? Gaining weight in places you wish you weren't?
I've learned that a healthy metabolism depends on the foods you eat. This may seem like a no-brainer. 🙂
And yet, it may not be as simple as eating a nutrient-dense diet of grass-fed or pastured animal proteins, traditional fats, and a variety of organic or locally grown fruits and vegetables…
We may have to go deeper. What works for one person may not work for someone else.
Let's talk about how important it is to eat for YOUR type… to boost metabolism and energy levels! (And if you need to lose weight, this often helps with that, too!)
How To Boost Metabolism & Increase Energy
According to one theory on metabolism types, some people are best fueled by fats (74%), some by carbs (23%), and some by both fats and carbs (3%).
These are called (in the same order as above):
Fat-Protein Efficient — calories are 50% protein, 25% fat, 25% carbohydrates
Carb Efficient — calories are 20% protein, 12% fat, and 68% carbohydrates
Dual Efficient — calories are 33% protein, 33% fat, and 33% carbohydrates
Why is this calorie distribution important?
Because if you don't eat enough of YOUR energy foods, you probably won't feel that great. 🙁
Consider: if you eat primarily carbs for energy, yet your body is best fueled by fats, your metabolism may be sluggish, you may gain weight, and you might not feel great (energy, focus, etc.).
On the other hand, someone who is best suited to fueling through carbohydrates probably won't look or feel as good if they're eating primarily fats for energy.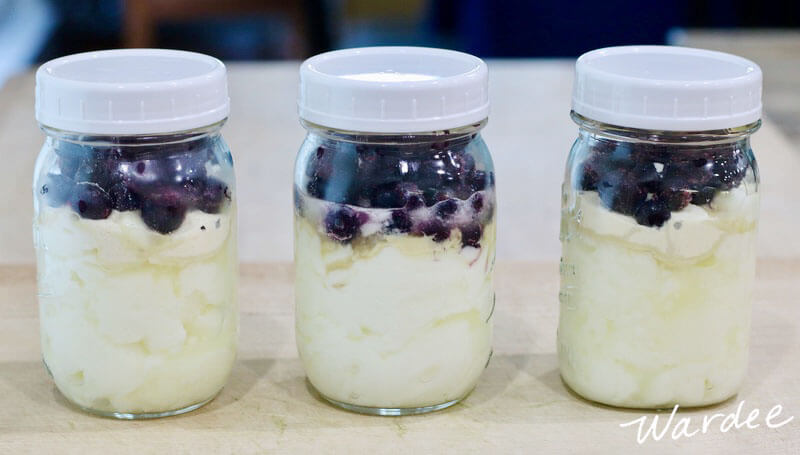 My daily yogurt snacks that fit my dual metabolism diet: 1 cup yogurt, 1 scoop collagen (use coupon code WARDEE10 to get 10% off), 1 dropperful liquid stevia, and 1/4 cup frozen blueberries. Make in morning, put in fridge, and eat for snacks throughout the day. 🙂
And another important factor is… are you eating ENOUGH of YOUR energy foods? It's very important not to overeat or undereat! Undereating is so easy for women to do.
So… I want to encourage you to eat the right energy foods for YOU! And enough of them!
How To Find Out Your Type
One of the easiest ways to figure out which type YOU are is to try one or the other of the "types" for a few days or a week at a time and pay attention to how you feel while eating that way.
(I include a book recommendation below in case you are looking for a quiz that can help you figure this out.)
Here's how…
First, try eating low carb and higher fat. Another time, eat primarily carbs for energy (and low fat).
And finally, on yet another day, you could try eating about the same amount of calories in carbs and fat.
How do you feel? What does your weight do? Adjust from there.
A few things to keep in mind so as not to confuse things:
Eat protein with every meal or snack. Don't skimp on that. I don't consider protein "energy" food, but it's still really important to eat between 20% to 50% of your calories from protein, depending on your type, so you have enough for muscles, enzymes, and all other protein needs.
Don't skip meals or undereat. This will confuse things. You'll feel tired and sluggish no matter what, and it will be hard to narrow it down to the type of energy food if you're generally underfed.
Fat has about twice as many calories per gram as carbohydrates. It's easy to overdo fat because it doesn't look like much, but really packs in the calories.
You don't need to completely eliminate carbs if you're testing whether or not fats are your fuel. The fat-protein efficient diet (first type I mentioned above) can still eat about 25% calories in carbohydrates.
Those are the key principles to get you started.
And remember this most important thing: When you do the experiment on yourself, it doesn't have to be an exact science.
Go by how you feel and adjust from there.
My Experience
I personally feel the best when I split my energy calories equally between carbs and fat (and protein).
When I don't, I am sleepy and low energy and I gain fat in my belly. I have verified this soooo many times I've lost count. 🙂
Therefore, I've concluded I have a "dual metabolism" and I try to follow that as best I can most of the time. I can tell the difference if I don't!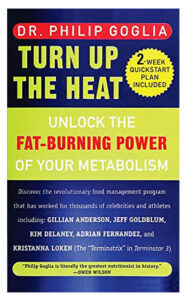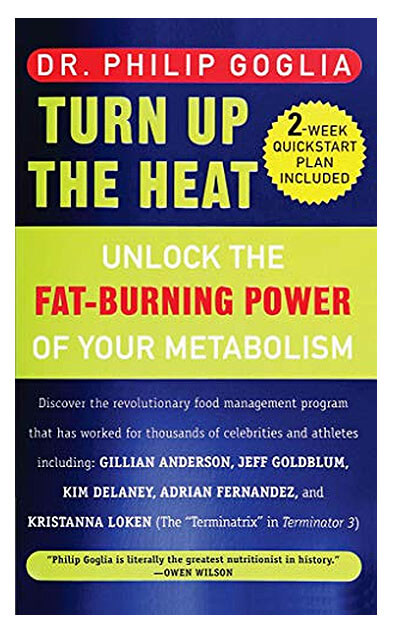 Want To Know More?
If you ensure that you're eating enough of your particular type of energy foods, your brain and your metabolism will have what they need to focus, act, and stabilize a healthy body weight.
"Turn Up The Heat" (pictured above) is the book I read to learn more about the metabolic types (click here for more info).
Through following what I learned in this book, I lost nearly 10 pounds in the first month (all in my belly) and I felt a bump in my energy level. I look and, most importantly, FEEL younger!
In the book, the author shows how to read your recent lipid panel (cholesterol, etc.) to determine your metabolic type. He also includes an easy quiz in case you don't have recent lab work.
In the reviews, a lot of people mention typos and mistakes. This is true. However, I feel the fundamental information is really good.
I corresponded with the author's customer service team and they told me the meal plans in the book are out of date. Since I make my own meal plans, I don't use them anyway. (I can share more about that later; let me know if that interests you.)
Again, click here if you or someone you know want to know more about the "Turn Up The Heat" book.
How can you find out your metabolism type? Trial and error can certainly reveal it, or there are online quizzes you can take.
Here is a quick quiz (I'm not affiliated with it).
Give It A Try!
I would love to know if this tip helps you, too!
Given what you know about your body, which fuel type do you think is best for you? Let me know in the comments below, and if it helps boost your metabolism and energy!