Are you struggling with wispy or statick-y curls that fall flat? In this article, I'm sharing 4 ways to fix soft or limp curls… including a DIY protein treatment!
If you have fine hair… you've probably experienced days when your hair, waves, or curls are "soft".
They feel wispy, prone to static electricity, any curl is more limp, and it's really hard to get and keep volume.
Is there anything you can do about this?
YES!
How to Fix "Soft" or Limp Curls
#1 — Don't overmoisturize.
Make sure you're not overmoisturizing with rich or heavy shampoos, conditioners, leave-ins, or curl cream. These products are all softening. Not to say you shouldn't moisturize, just don't over moisturize. Choose volumizing products and avoid products with rich creams or butters in the first 5 ingredients.
#2 — Consider protein.
Second, make sure you're using products with the right amount of protein for you. Protein provides structure and balances too much moisturizing.
There are topical protein treatments. Masques and conditioners often contain protein as well as hydrating ingredients. Some styling products, such as curl creams or gels, also contain protein.
I really like using conditioners and masques with protein, as well as gels with protein. But you can't overdo or your hair will be brittle and dry. So make sure to balance with the right amount of moisturizing as well as using some products without protein.
You can recognize protein in your products with words such as "amino acids" "hydrolyzed" and even sometimes "extract" depending on what it is extracted from.
DIY Protein Treatment
You can do a homemade treatment with gelatin. Here are instructions:
Combine 1 tablespoon of gelatin (Perfect Supplements is the brand I use and use code WARDEE10 to get 10% off) with 2 tablespoons of hot water and stir till combined/dissolved. Then mix in 1 teaspoon of apple cider vinegar and some of your regular conditioner to make it into a spreadable lotion consistency (a lot like conditioner, but thicker due to the gelatin). Then wet down your hair and spread the gelatin mixture all over and throughout while detangling, well coating ALL your hair.
Is your hair feeling good? Then the protein is helping. If you notice your hair is feeling dry, brittle or not good, then protein is not helping so rinse it off right away, and shampoo/condition well to recover.
If you are proceeding… wrap up your hair and clip on top of head, put on a shower cap or a towel. Let sit for 15 minutes to an hour (I do 30 minutes). Then wash, condition, and style as usual.
What you should notice: your hair is curlier, stronger, and shinier. Curls last longer and hold better. Maybe you can even go a day or two more than usual before having to refresh or wash again!
How often to do a protein treatment? If you have high porosity hair (or damaged hair), around once a week or once a month, or even up to every 2 to 3 washes. And everyone else, less frequent from there.
If you'd like recommendations for purchased treatments or products containing protein that are right for you, just reach out via email or a text message (1-208-516-3615).
#3 — Use texturizing products.
Third, consider using products that will add some texture to your hair. Just enough so that your hair is not quite so slippery and soft.
There are 4 products I like to use for this…
Thickening leave-in spray. You apply this to your hair after shampooing and conditioning and before other styling products. It "thickens" your hair strands by coating them with something that's actually a tiny bit gritty. Not a bad gritty, but a nice gritty. I can feel it when I scrunch my dry hair. My hair just feels more substantial and not so soft and wispy. I mix my thickening spray with a tiny bit of curl moisturizer so that I'm not left too thickened that it's drying. (Everything is a balance and you have to experiment quite a bit to find a good combination of products for YOU!)
Mousse or foam styling products. Most people apply these when their hair is wet/damp then diffuse/air dry… so that is an option for you. But I don't like doing that. I feel that my hair gets less curly and more stringy. I don't know why. There seems to be a drying out effect. So what I do is apply it to nearly dry or dry hair. Put a bit of mousse in the palm of my hand, emulsify in hands, then scrunch into the curls. Personally, I don't put it on my roots or on top of my head because that hair just doesn't like mousse. But on the curls hanging down, the mousse gives them more volume, texture, and hold. Once I scrunch the mousse in all over, then I diffuse from ends to roots to dry and set it.
Hair spray or texturizing hair spray. Many of us have a love-hate relationship with hair spray. We love the extra volume and hold, but not the build-up and stickiness. Well, the extra volume and hold is because the spray is adding a layer on top of our hair that makes it less soft and slippery and it's for that very reason we get more volume and hold. And TEXTURIZING hair sprays contain a bit more of the "gritty" ingredients (such as salt) to make your hair less soft and wimpy. Personally, I love my hair spray and my texturizing hair spray. They are not terribly gunky and they work quite well to help me hang on to volume throughout the day. You can apply hair spray after your hair is dry to "set" it. You can also spray some into your curls when you're nearly done diffusing, so then you can diffuse a bit more afterward to "set" it with heat. Similar to how I use the mousse.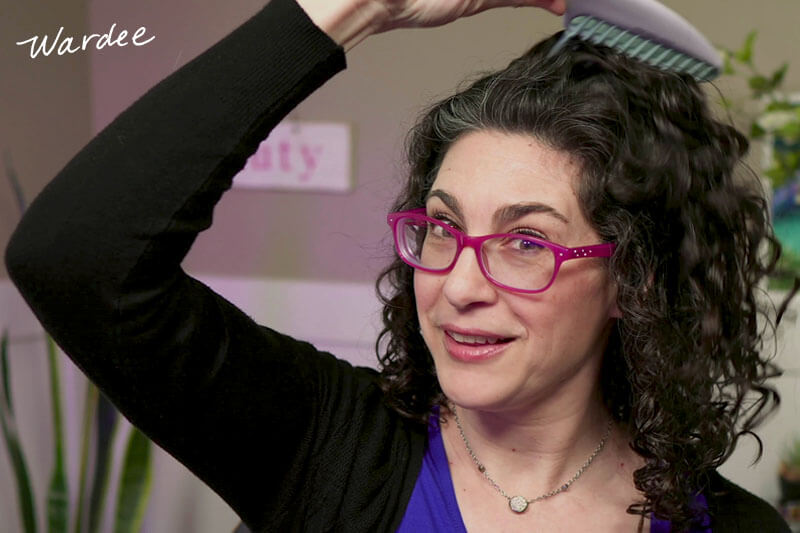 BONUS: any time you're adding texture products to your hair, afterward use a wide tooth rake/comb like this to lift your hair at the roots. See video above for how I do this!
#4 — Use clips or a headband.
If your hair is just wayyyyy tooo soft and the only way to fix it is to get to a new wash day, in the meantime you can make it look better. I shared 2 ways in the video. One is to use tiny clips to clip back a little hair right around your face to add some height and fullness.
Another is to use a Zazzy Bandz headband. These are headbands that fit like sunglasses so they doesn't hurt or dig in or cause headaches. See the video above for how to wear them, or here is a short video that shows you my 2 favorite ways to wear Zazzy Bandz:
Use this link to browse the Zazzy Bandz (lots of colors) and use coupon code WARDEE to get 15% off.
What Next?
What do you think? See anything you want to try to fix soft and limp curls? I'd love to hear from you if you give any of these tips a try and how they work for you.
And if you're interested in trying out or getting more info on the non-toxic products I use and recommend, email or text me (1-208-516-3615)… or go here to answer a few quick questions to see if it's even a good fit for you.
God bless you! Bye bye!