Curly hair often goes hand-in-hand with frizz… but it doesn't need to be that way! In the name of having more good hair days than bad, here's how to reduce frizz!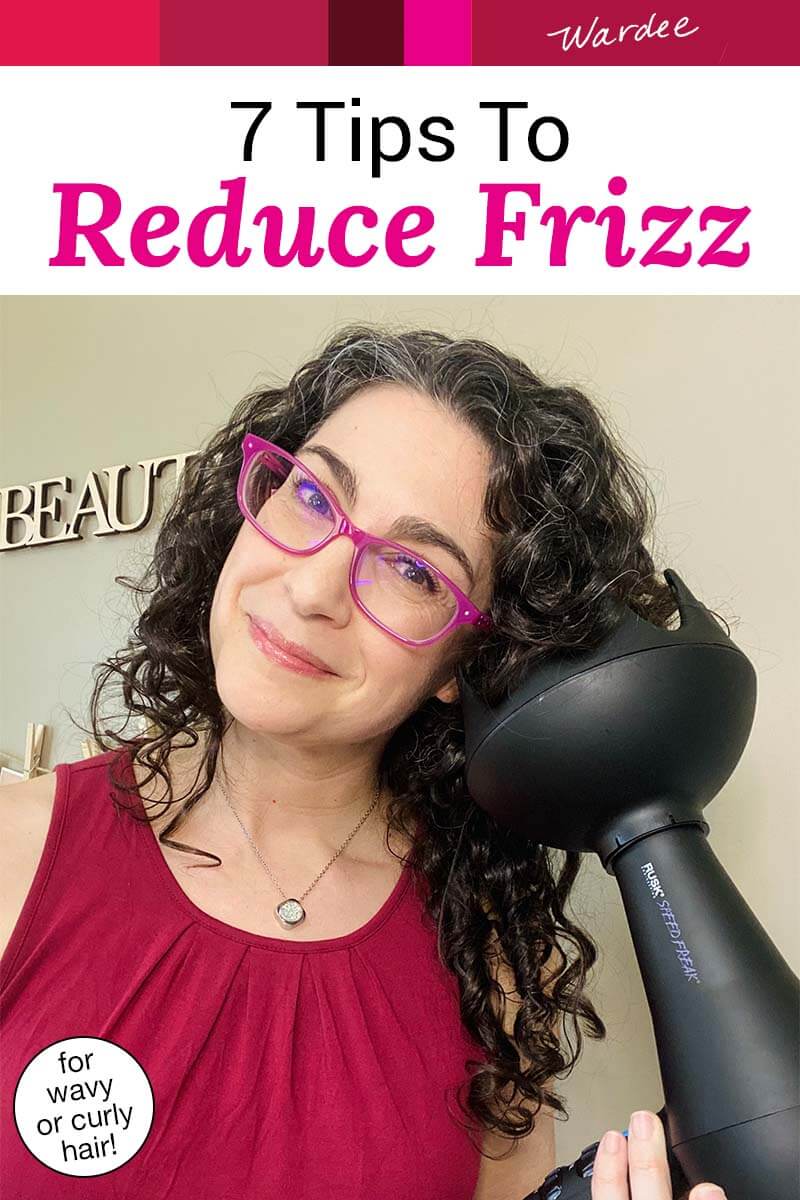 Frizz… drives us mad, doesn't it?
Personally I hate the "frizz glow"… that halo of frizz… that creates a cloud around the head.
In this post, I'm going to share hair care tips on how to reduce hair frizz.
Hair Types
Before we talk about ways to reduce frizz, you have you know your hair type — its porosity and its curl type.
Porosity refers to how porous your individual hairs are. They are either low (closed cuticles or low absorbency), medium, or high (open cuticles or highly absorbent). The photo above illustrates this.
Curl type refers to how curly your hair is, from wavy to curly to kinky, and variations in between.
Here's how to figure out your hair's porosity, and here's how to figure out its curl type.
When you know your hair type, you can make the most of your hair, adapting the tips below to suit it, and preventing frizz even more!
How to Reduce Hair Frizz (7 Hair Care Tips)
Do keep in mind that a tiny bit of frizz is always going to be there. It's just the way it is!
How do we keep the frizz as minimal as possible, though? I'll show you how with these tips!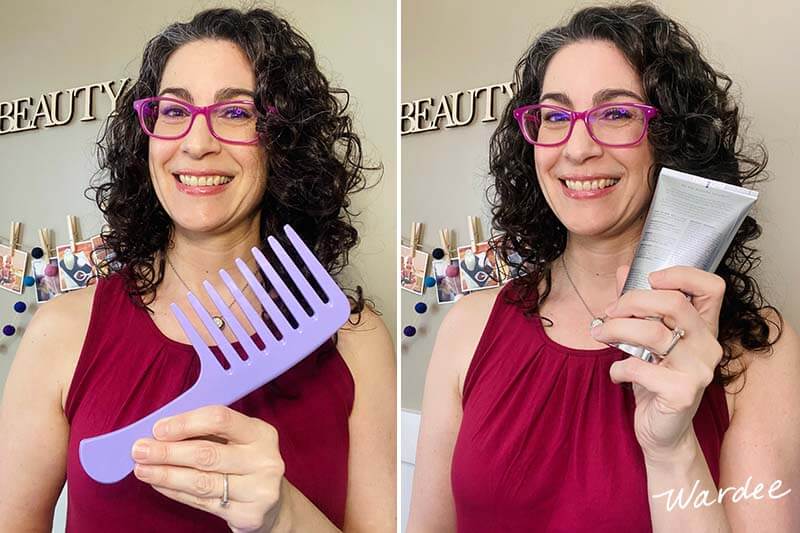 1. No brushing.
Brushing introduces frizz, especially if your hair is dry.
Instead of brushing, you can use a wide tooth comb, but I would suggest only doing it to detangle your hair in the shower, after or with conditioner, if you need it. For many, including me, conditioner is sufficient to help us finger comb and detangle our hair.
If it's a non-wash day and you don't use any conditioner that day, a wide-tooth comb will help you detangle after your hair is wet down. For more, check out my video on how to style hair on non-wash days!
But remember… no brushing! Only use a wide tooth comb, if necessary.
2. Use conditioner.
Many ladies with fine hair, like me, have been afraid of conditioner off and on throughout our lives. This is because most conditioners are too heavy and weigh our hair down.
However, you need conditioning to reduce frizz… and even fine hair needs conditioning… it just has to be the RIGHT conditioner for YOUR hair type, so you're left with hydrated hair instead of dry hair (read: frizz!).
Here are my conditioning tips for different hair types.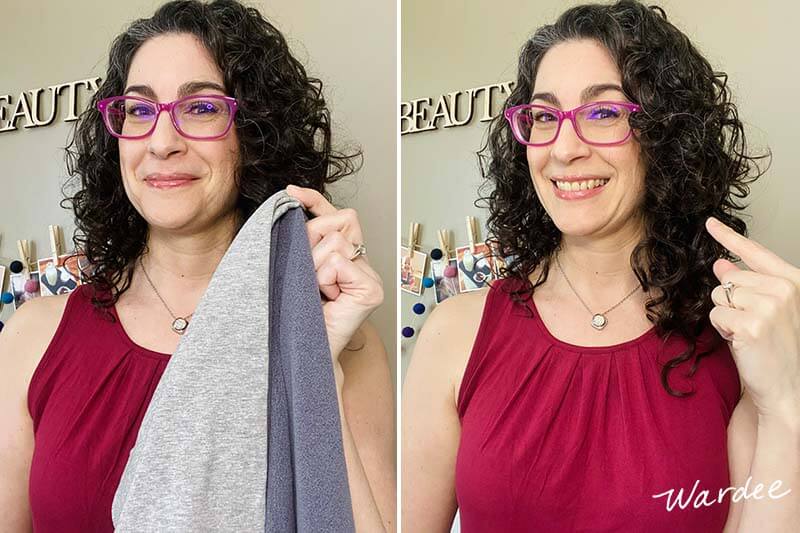 If, after washing your hair or wetting it down, you use a regular terry cloth bath towel and/or rub your hair with it, you're starting off on the wrong foot right out the gate — tons of frizz. Not to mention breakage.
Instead, scrunch dry your hair with a microfiber towel like this… or a 100% cotton knit t-shirt (or towel) like this. I usually do it with my head upside down.
These types of towels, and the technique of scrunch-drying your hair, doesn't make your hair frizzy.
4. Use at least ONE frizz-reducing styling products.
For curls, gel is the gold standard to reduce frizz and define curls. However, mousse, curl cream, a hair masque, and other products can also help reduce frizz while adding a styling benefit such as volume or curl/wave definition.
In my opinion, the visual benefits of using at least one styling product — we have "good hair days" instead of bad — far outweigh the "inconvenience" of one more step in the styling routine.
Plus, if you're a curly like me, you can apply your gel or curl cream in the shower and come out with your hair practically "done". Not complicated at all!
Here are my best 7 tips for using gel, and how to break the gel cast for soft, bouncy curls!
5. No touching.
Most of the tips I'm sharing have to do with handling your hair. That's because a lot of frizz is introduced by the things we DO to our hair. So, once your hair is wet down and styled, hands off!
I do want to add that for curly girls, styling might be air drying after adding styling product… so it's hands off while your hair is drying, too.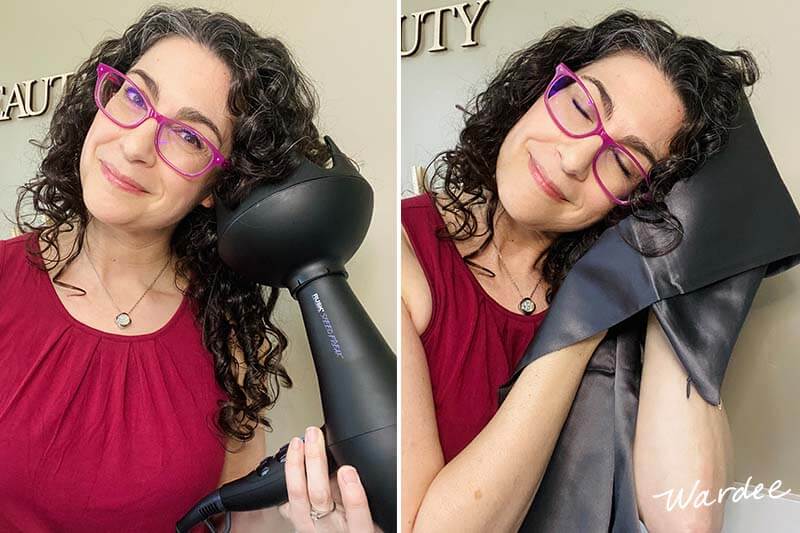 6. Diffuse the right way!
If you have wavy or curly hair and use a blow dryer with diffuser attachment to dry your hair, be sure to diffuse the RIGHT way. This means, you're not handling your hair much at all and not moving the diffuser constantly.
With wet hair… get sections of your hair and curl them up in the diffuser, holding to your scalp for 10 to 15 seconds at at time, then moving onto the next section. Repeat that all over your head until your hair is about 80% dry.
I explain (and show) in more detail exactly how to diffuse properly here!
Not only will you get more volume and better defined curls, you'll be practically frizz free!
Update Jan 2023: Here's my neck-safe diffusing routine so you can achieve voluminous curls without flipping your head upside down!
7. Sleeping tips.
If you're sleeping and rubbing your head all night on another fabric, you'll really end up with frizzy bed head plus more damage and breakage to your hair.
A silk pillowcase is soft and smooth and minimizes the frizz and damage that accumulates while you sleep. Some ladies like to wear a silk scarf or cap to bed. This is a great option, too, because it will protect your hair much like a pillowcase does.
Here's the silk pillowcase I use and love and you can get 15% OFF when you use the code WARDEE at checkout!
Need Help?
If frizz is giving you fits, or you're having any other hair problems, I might be able to help you have great hair days again. Just reach out by email right here or a text message (1-208-516-3615) and we can chat (no pressure).
Or… if you'd like to see if the products I use and recommend might work for you, too, answer some quick questions right here.