Frizz-free, long-lasting, soft, voluminous curls! Isn't that the stuff of dreams! Here's how to break the gel cast on curly hair so you can experience all the benefits of gel… without the crunchy, stringy gel look or feel.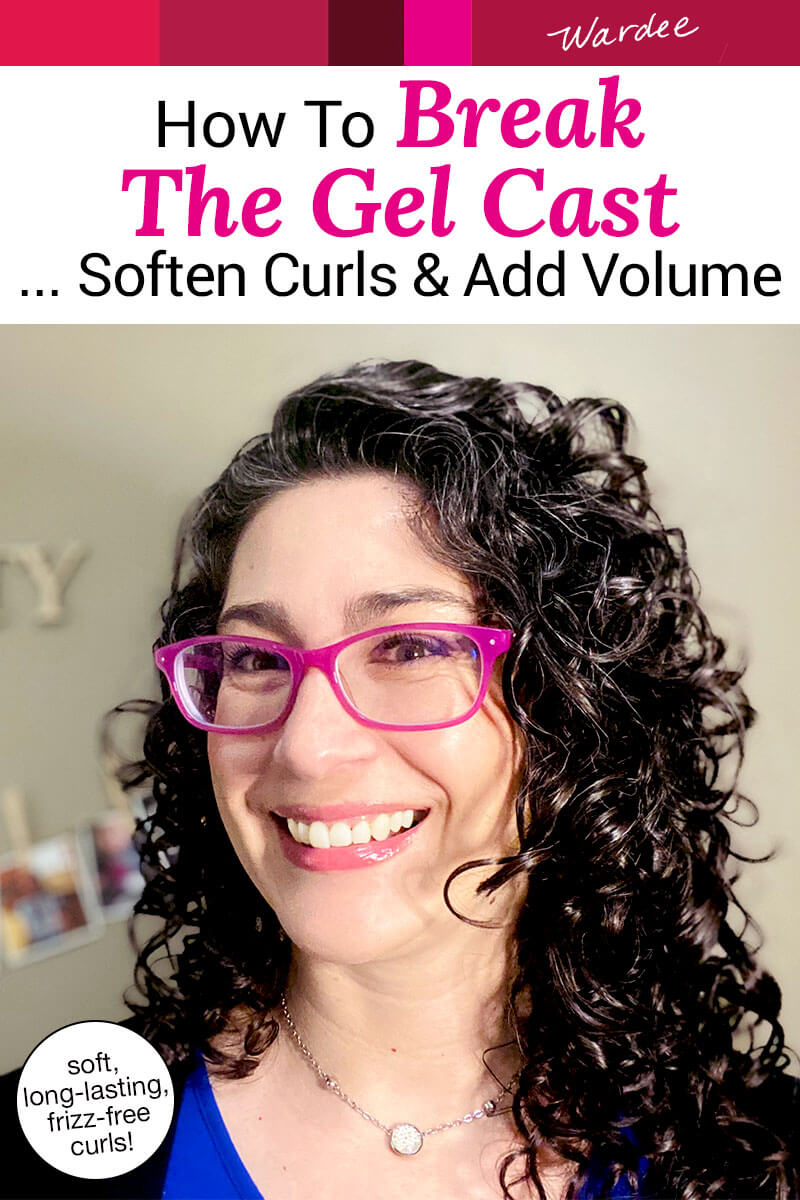 Want defined curls? You need gel!
But who wants the gel cast that leaves you looking wet and crunchy like we did in the 80s? Not me!
I've already shared my best seven tips for getting soft, bouncy, defined curls using gel. If you follow those tips and you're still struggling, then it's time for an in-depth tutorial on how to break the gel cast.
This will help transform your stringy, crunchy, curls into soft, voluminous curls!
And a quick updated routine:
But first…
What is a gel cast?
Gel helps define curls because as it dries on hair, it hardens and forms a "cast" around each curl. Even though many of us might not like the look or feel of a gel cast, there are benefits!
helps our hair dry curlier
minimizes frizz
helps curls stay in place for longer (even over multiple days!)
And yet, a gel cast also leaves our hair feeling crunchy and hard. We want defined, frizz-free curls, and we want the gel to help us achieve this, but then we want to break the cast to release the curls. Breaking the cast softens curls and adds volume.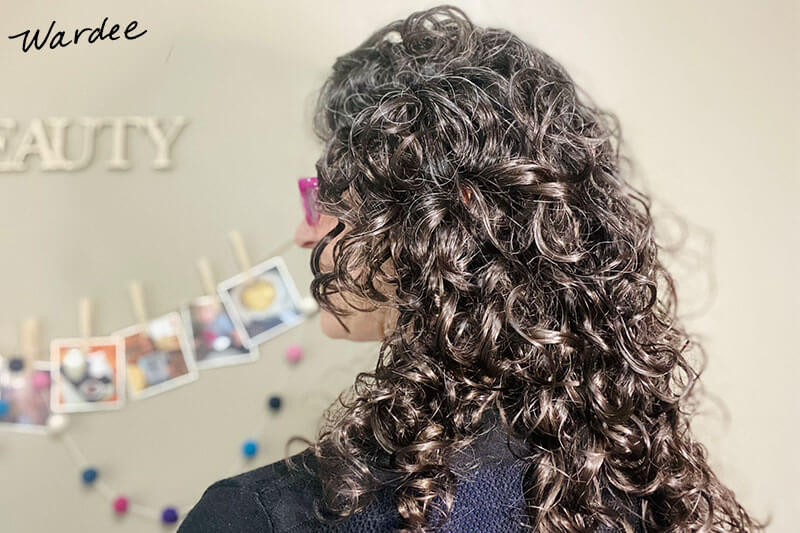 How to Break the Gel Cast on Curly Hair
Here's how I break the cast on my curly hair… also called "scrunch out the crunch" or "soften the cast"…
Follow these tips for applying gel on your wash day. It's especially important to make sure your hair is well conditioned before applying gel!
Air dry or diffuse your hair. Here's how to diffuse your hair properly, for minimal frizz.
Now wait until your hair is completely dry. I usually wait a few hours after diffusing. This ensures your curls will last longer, even multiple days.
Put 3 drops of a hair oil on your hands and rub them together to evenly coat your palm. (Update: I now no longer use oil at all, just dry hands, since my hair is fine and I feel the oil weighs down my hair.)
Gently scrunch, without agitating, your curls all over your head. The oil will soften the gel without adding frizz! This is called "scrunching out the crunch". Update: now I prefer to pat the hair all over, as in the quick video above, because I get even less frizz.
Gently rub the oil on any frizzy bits to tone them down. If you're using oil, that is. 🙂
Also gently shake your hair at the roots to add volume. Do this with your head right-side up or upside down, up to you.
Lift and inspect your hair to reveal any big curl clumps. Gently separate them from the top of the curl clump; this will add volume. Don't make too small of clumps, though!
To preserve volume, lightly spray with hair spray. (Optional.)
During this whole process, make sure your hands always have oil on them or they are dry (not wet). If you're using oil, you only need a few drops, maybe a few drops for either side of your head, depending on how much hair you have.
Once your curls are soft and fluffy… stop touching your hair!  Your curls will last longer if you keep your hands off. 😉 It helps if you sleep with a silk pillowcase and/or a silk bonnet, too.
Need Help?
Remember, gel is just ONE part of a hair care routine that can help your curls bounce and shine! If you're interested in the products I use and recommend (they're non-toxic and they work GREAT and I have options for all hair types and issues), go here to answer a few quick questions to see if they might work for you, too. No pressure from me, ever.
Or… feel free to text me at 1-208-516-3615 or reach out by email right here.
God bless you!