Have you ever wondered what to do for thinning hair? Or wondered if you'll EVER be one of those women who have great hair EVERY SINGLE DAY? Continue reading to find my best tips on the best treatment for thinning hair, how to find your hair type, and how to properly care for your hair.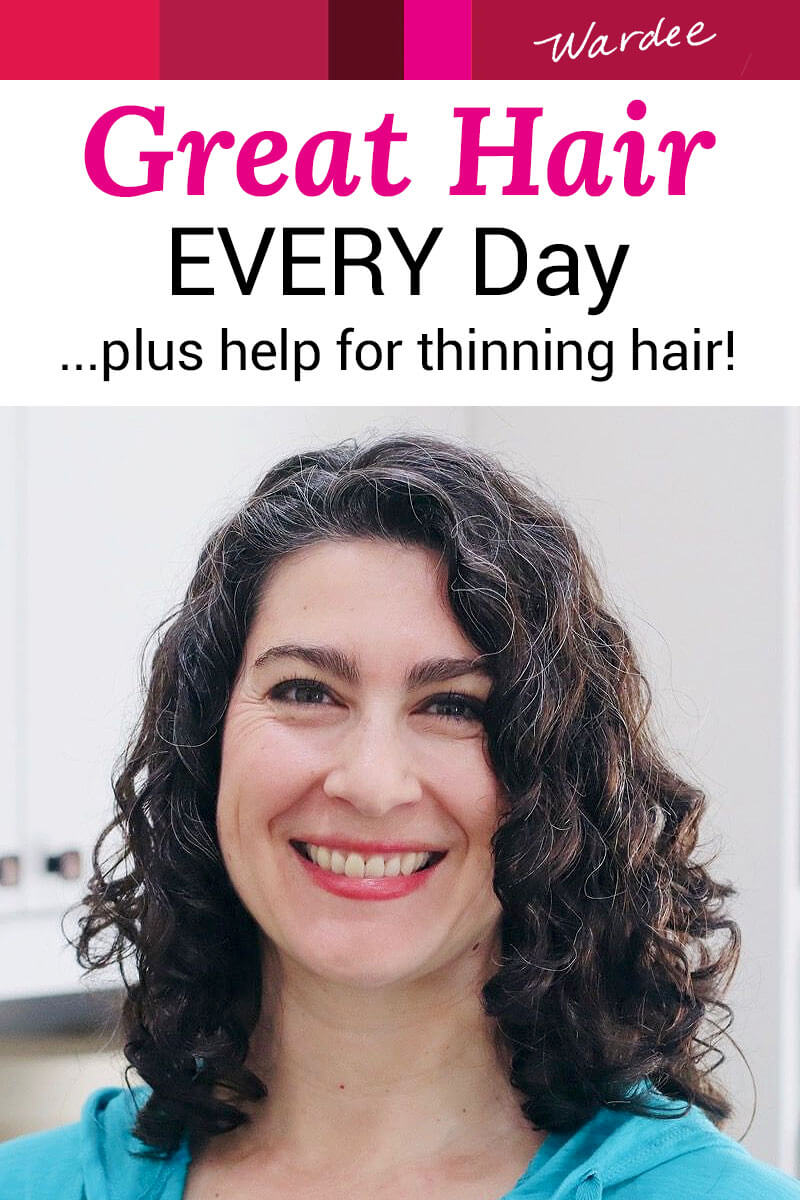 Is it really possible to have great hair EVERY day? Is it possible to reverse thinning hair?
I think we all know the feeling of looking in the mirror and thinking "Oh no, it's another bad hair day" … whether from frizz, dryness, thinning hair, tangles, curls going flat, you name it… depressing.
I cringe when I look back at some of my online videos and photos!
Like the one below ("before") was a couple years ago and I hate looking at that frizzy yucky mess I faced more often than not. My hair is curly and long, and while it wasn't terribly bad… it didn't look very good, did it?
Frizzy, flyaways, overall dullness and dryness going on. I hated it.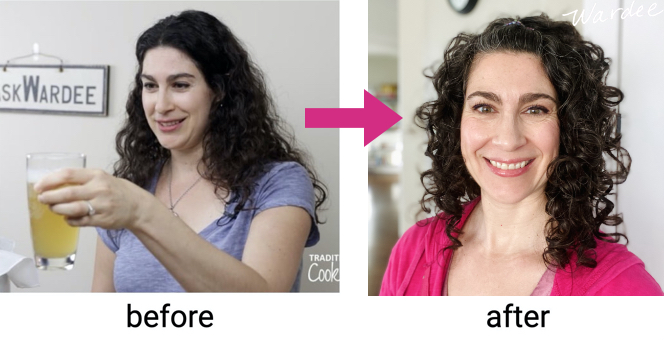 Yet now, at the time of this writing, I've been enjoying more than 2 years of my hair looking like the above "after" photo pretty much every day. I'm really happy with it and my husband loves it.
Why is this so important to me? To other women?
I think that when our skin and hair looks their best, we feel good inside, we feel attractive and desirable to our husbands on the outside, and we feel like we're doing our utmost with the features God has given us.
For me, perfection isn't the goal. My goal is to always be progressing and giving it my best! Then I know I'm not leaving anything on the table.
If you share similar goals and desires, then I hope this post will help you.
Whether you have straight, wavy, or curly hair… I believe these tips and information will help you get there, too. 🙂
What's Your Hair Type?
If you've ever read a glowing review for a hair product, only to try it yourself and hate it… then you know what's going on here.
That reviewer's hair was different than yours. The product isn't necessarily bad. It's that it didn't work for you.
Wouldn't you rather know ahead of time what kind of hair you have so you can identify from the get-go which products are more likely to work for you, give you great hair, and fix your issues such as thinning, frizz, dryness, volume, etc.?
The bottom line is, you'll have less chance of wasting money on products that don't work. (Notice I said less chance; it's not a guarantee, but it will shorten the trial period considerably.)
If you said yes, then you need to know your hair type, which means you need to know your porosity…
How Porous Are Your Individual Hairs?
Porosity refers to how porous your individual hairs are. They are either low (closed cuticles or low absorbency), medium, or high (open cuticles or highly absorbent). The photo above illustrates this.
A Wikipedia summary states:
Low hair porosity is when the hair cuticles are tightly shut. Low porosity hair has difficulty obtaining moisture but once moisture is absorbed it will remain moisturized. This porosity type is common with hair that has suffered little to no damage (either from heat styling tools or from chemicals) and thus it is the preferred porosity level.

Medium porosity hair is when the hair cuticles are loose, allowing moisture to be easily absorbed and retained.

High porosity is when there are gaps in the hair cuticles which allows the hair to easily absorb the moisture but also easily lose the moisture just as easily as it was absorbed. These gaps are caused by long term damage to the hair from things like over-manipulation, heat damage and chemical damage from hair dyes and relaxers. (Source.)
Picture a pine cone, kind of like the photo above. The cuticles of the hair are like the scales. If the cone is young, the scales are tight to the cone. This is like low porosity hair (tight cuticles).
On the other extreme, if the scales are opened up, like a more mature cone that's releasing seeds, you could say this is more like high porosity hair's cuticles (open cuticles).
How To Identify YOUR Hair Type
To figure out how to best care for your hair, including what products and how much… you need to know four things about your hair — strand thickness, hair density, hair porosity, and curl type.
Strand thickness refers to how thick each individual strand of hair is. Compare your hair strand to half of a piece of thread. Most sewing thread is 2-ply, meaning it's two threads wrapped up into one… so separate the piece of thread into its two thinner strands, and voila! One of those is comparable to a normal hair strand's thickness. Fine hair is thinner than that half thread, and coarse is thicker.
Hair density refers to how many hairs are on your head. When your hair is parted, can you easily see your scalp (low density), somewhat see your scalp (medium density), or barely see your scalp (high density)?
Porosity refers to how porous your individual hairs are. They are either low (closed cuticles or low absorbency), medium, or high (open cuticles or highly absorbent). You can tell your porosity by how quickly your hair gets fully wet when you hop in the shower — quickly (as in seconds) is high porosity, within a minute is medium porosity, and within several minutes (including some massaging to help it along) is low porosity. The photo above illustrates this.
Finally, curl type. Curl type refers to how curly your hair is, from wavy to curly to kinky, and variations in between. This is probably least important when choosing to use curl cream or gel or both, but is still something to consider when you evaluate your results to see if these products helped or hindered your curls from really shining.
Why Does Hair Type Matter?
Fine or low porosity hair needs lighter, protein-free, or light protein products that 1) won't sit on the hair, building up and causing it to look or feel greasy, and 2) will draw moisture to the hair, especially in humid climates.
On the other extreme, coarse or high porosity hair needs more deeply moisturizing protein-rich products that add structure and shine to the hair, as well as oils and butters to seal the hair to prevent moisture from escaping.
By the way… if you're investigating hair care products and the company or representative is not familiar with the idea of porosity, you can look for other words that will tell you what product would work for you.
In Simpler Terms…
Fine Strands, Low Density, Low Porosity — look for light protein or protein-free products that advertise "volume" or "for light, fine hair"
Normal Strands, Normal Density, Normal Porosity — look for products for normal hair
Coarse Strands, High Density, High Porosity — look for products containing protein and rich butters/oils and advertising "deeply nourishing", "smoothing", or "for coarse, thirsty, dry hair"
Most of us are a mix-n-match of types, in which case you will probably have a leading concern that trumps all others. For instance, since my hair is fine, I have to go with lightweight products even though I also need some moisturizing. So I look for lightweight volumizing products that are also a bit moisturizing.
If You Get It Wrong…
I'm going to put myself up as the first example of getting it wrong with fine hair. I was using the wrong products and so my hair had frizz and dryness, flyaways and it was just not fun. 🤦🏻‍♀️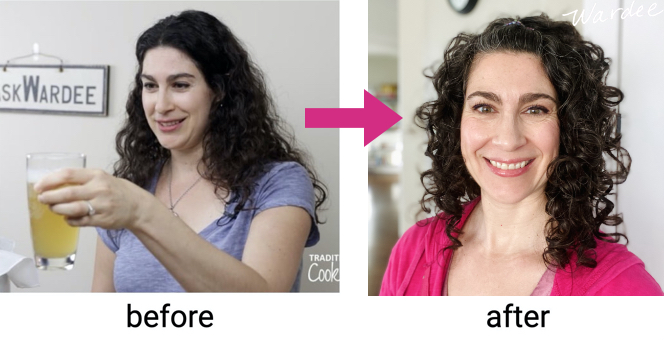 Next up, my daughter Haniya.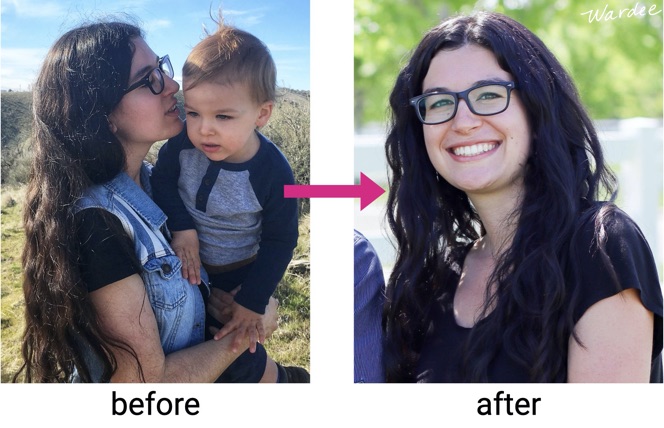 This is our daughter Haniya. Keep in mind, she's young and when we're young, our hair is just generally healthier.
I didn't take as much care with my hair as I do now, when I'm 45, as I did when I was a teenager and same thing with our daughter, Haniya who's in her 20s.
In general, her hair looks pretty healthy in the "before" picture. Definitely not as bad as mine, but you can see it's frizzy and the curls are kind of meshed together.
And now that she's using the right products for her hair, in the "after" photo you can see that she now has shiny defined waves and the frizz is gone.
And then this is an example of someone that I do not know, but I think it's a great example of what changing to the right products and routine can do!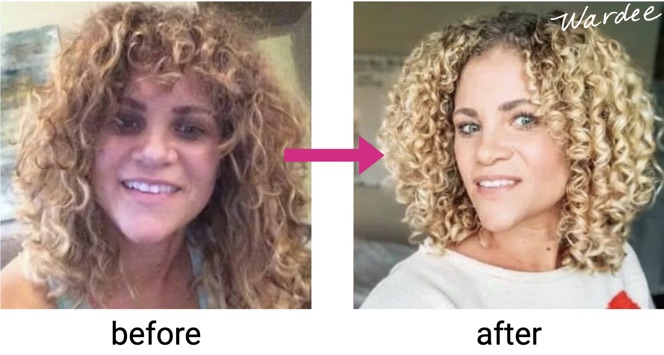 An amazing transformation when using the right products!
Although the three examples I've given you are all curly, the same principle applies whether you have straight, wavy, or curly hair. If you're not using the right products for your hair type, you might look more like the "before" photos rather than the "after" photos.
What Hair "Issues" Do You Have?
It's easy to get confused by all the issues we might have. Common complaints I hear (and have experienced myself) include greasy, dry, frizzy, flat, itchy, rough, coarse, build-up, thinning, etc.
Yet if you focus on these to the exclusion of ignoring your hair type…
…this or worse might happen!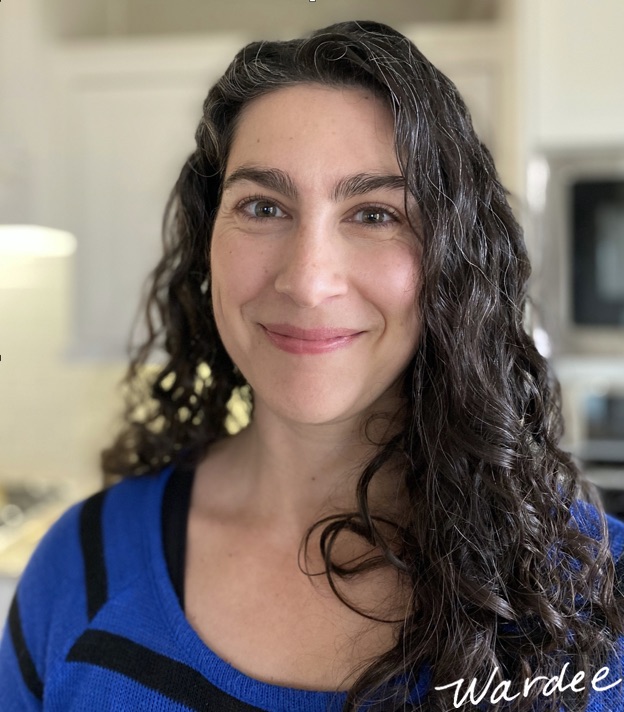 In this photo, you can see the results when I focused on frizz-reducing products. The too-heavy-for-me products sure took away the frizz… yet they also made my hair flat and greasy-looking.
And where did my curl go??? Yuck!
Yet, when I got my "type" right… the rest fell into place!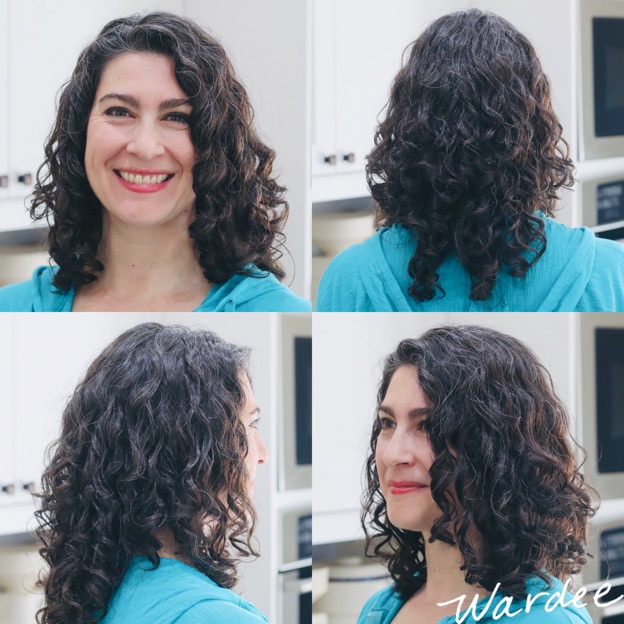 The "right" products for my hair type (light, fine hair) gave me more volume, more shine, more bounce, and more curl as well as getting rid of the frizz and dryness.
And all I did was start using products that are for my "type" of hair.
I know there are bigger issues that people have, like dandruff or thinning. Those things will take more time, but you have to start with your hair type and go from there.
Why Is My Hair Thinning?
First, some scary stats!
50% of women overall experience some hair loss, either female pattern hair loss or female pattern baldness.
40% of men are experiencing hair loss by the age of 35 (male pattern baldness).
65% of men are losing hair or have hair loss to some degree by the age of 60.
80% of men have hair loss by the age of 80, to some degree.
These were shared by a stylist several years ago. They may or may not be exactly accurate right now. Even if they are off by a bit, they are probably close enough.
Also, keep in mind that hair sheds about 100 to 150 strands per day, and that's NORMAL.
If you're losing your hair TODAY, this is a symptom of something going on in your body 2 to 3 months ago. Hair loss is not immediate.
If your hair is thinning right now, think back 2 to 3 months. What was going on in your life back then that could cause this?
What Causes Thinning Hair?
These are the most common causes of hair loss:
stress
inflammation
nutrition
anemia
hormones (more on balancing hormones here)
medications
weight loss
surgeries
illness or medical conditions
chemo
toxins
high DHT — testosterone converts to DHT and when DHT concentrates in the hair follicle, it causes hair to stop growing
heat tools
post-partum
breakage (possibly from tight ponytails and hair ties)
How To Fix Thinning Hair
Knowing what to do for thinning hair also means knowing the best treatment for thinning hair for your specific needs. This might be different for each of you.
address the root cause through dietary choices and/or working with a functional or naturally-minded doctor
bio-identical hormone replacement (see this podcast I did with nurse Angie Nichols for more info on balancing hormones naturally)
always prioritize rest and de-stressing
*use non-toxic clean products that decrease scalp inflammation and improve hair health
*use products that reduce DHT at the hair follicle so hair can grow!
allow time to see improvement (several months to several years for most hair loss treatments)
*We all want to stop thinning hair, but which products for thinning hair are best for YOU? There are safe and unsafe options. If you'd like to know more about the safe options I'd recommend for healthy hair and see if they might be a good fit for you, go to ByeThinningHair.com to fill out a quick questionnaire and we'll take it from there!
Real Examples Of Reversing Hair Loss (Photos)
The following testimonial photos are real results people have had using the same hair products I recommend. For some, the timeline is just one month to see results and others it is a year. Everyone is different!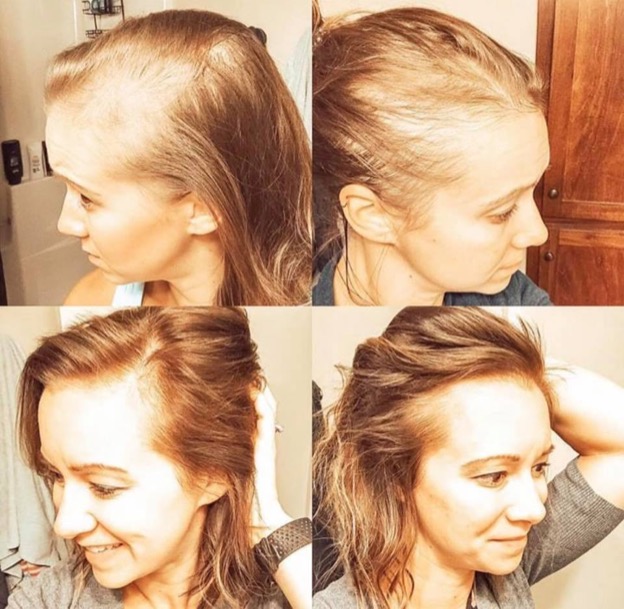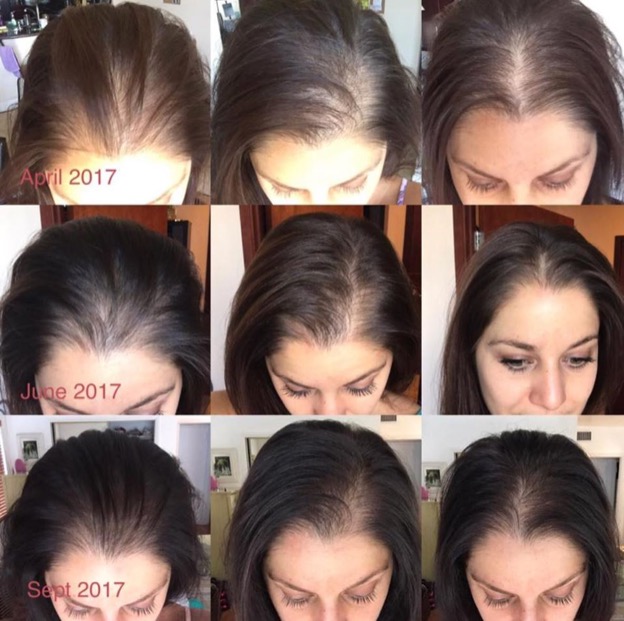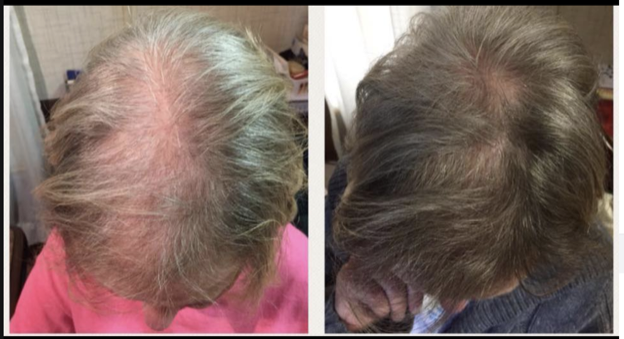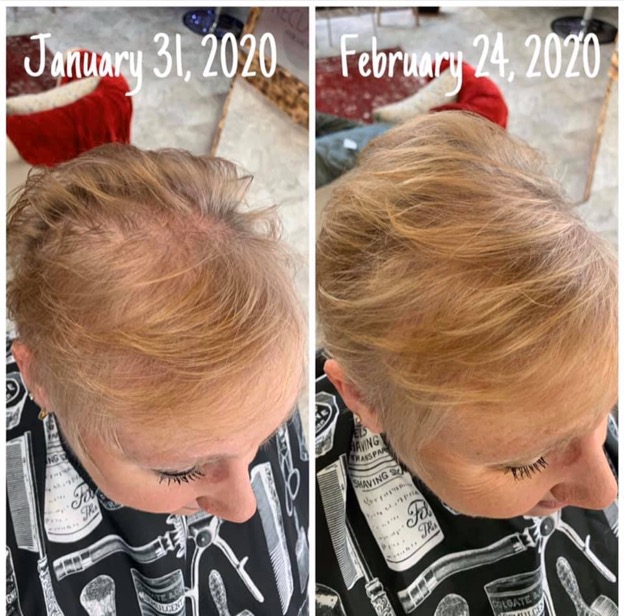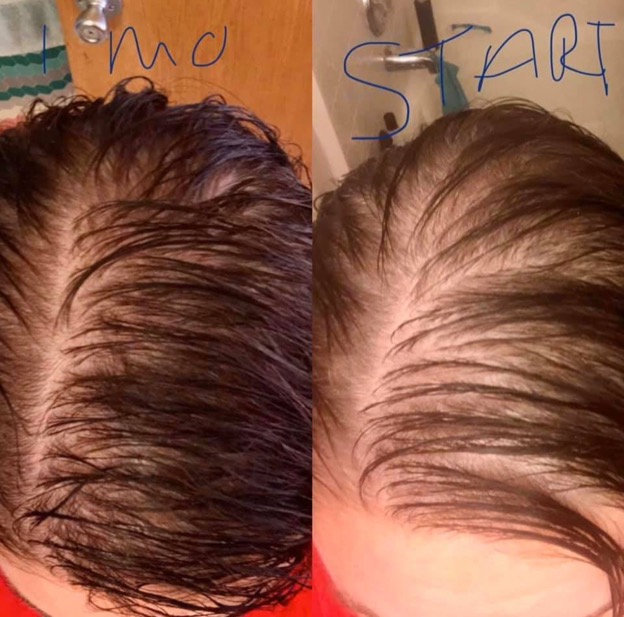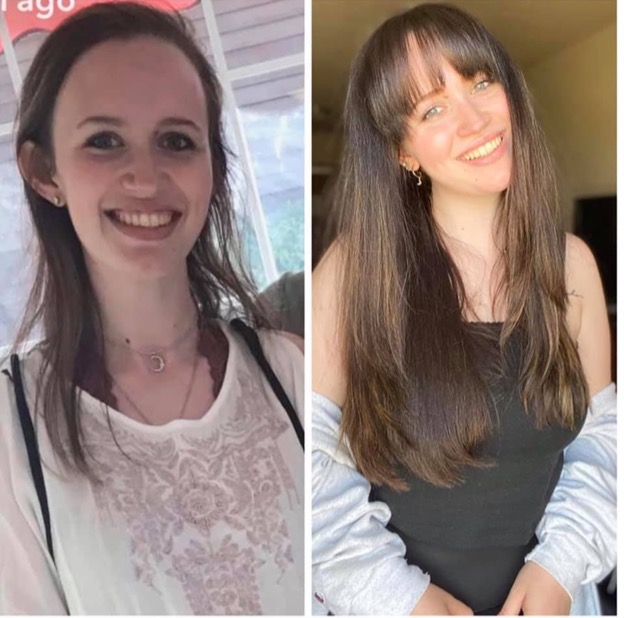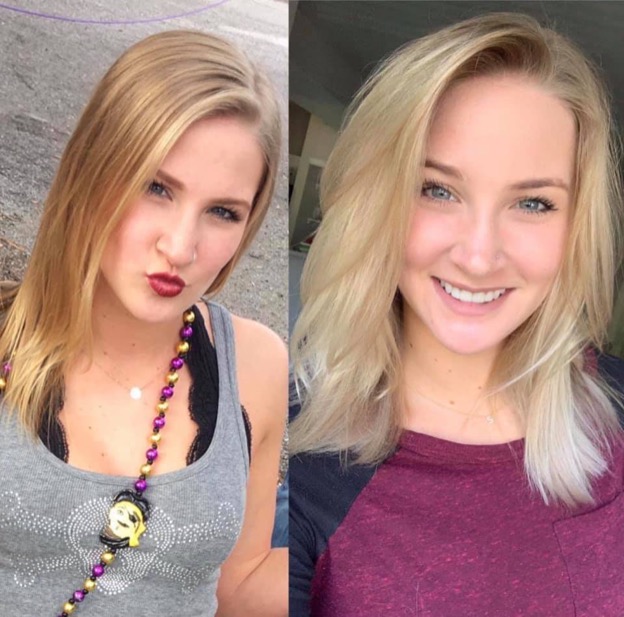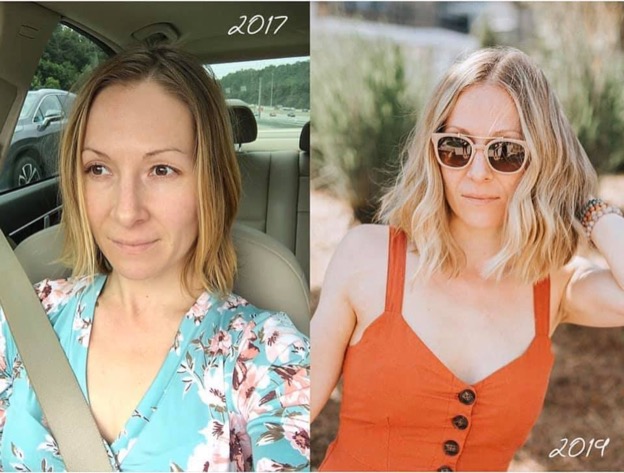 Thank you to these ladies who have been brave to share their before and afters with us. 🙂
If you want more info about what they're using, go to ByeThinningHair.com to fill out a quick questionnaire and we'll take it from there!
How To Choose The Best Hair Products
My Criteria For Hair Products
In the past, I've sacrificed effectiveness by using "natural" products. I've also sacrificed using more natural products in order to use high performing products.
I'm tired of trade-offs. I don't make sacrifices anymore. I've learned that it's not necessary, praise the Lord!
Here are the criteria I follow when choosing my hair care products.
non-toxic
high-performing
appropriate for hair type (including styling products)
address issues such as thinning, scalp health, dryness, flatness, frizz, curls, build-up, greasiness, etc.
The Best Products (shampoo, conditioner, masque, styling products, etc.)
If you share my goals, you'll also want to ensure that your non-toxic and high-performing hair products are:
Low porosity hair type — protein-free and advertises "volume" or "for light, fine hair"
High porosity hair type — contains protein and rich butters/oils and advertises "deeply nourishing", "smoothing", or "for coarse, thirsty, dry hair"
For all hair types — free of toxins such as silicones, parabens, phthalates, harmful fragrances or colors, or other harsh or harmful ingredients!
What's Wrong With Silicones?
Yes, silicones give hair a soft, silky texture, but they…
stick to the hair surface, creating a plastic-like film (which DOES protect from heat tools, a benefit!)
prevent strands from absorbing water, air, and nutrients
cause hair to become dry and brittle over time
Just so you know, there are two kinds of silicones: non-soluble and water-soluble. While the water-soluble is less of a problem, my understanding is it's best to avoid them altogether.
Best Practices for GREAT Hair Every Day!
Now that we've sorted out hair type and hopefully got you on the right track with what to shop for, let's talk about habits and techniques that can help you have GREAT hair every day.
What About "No Poo"?
I see ads all the time that say something like "You should stop using shampoo!". I'm sorry, but I don't buy it.
Especially for people like me with fine, low porosity hair, this is a recipe for disaster. The build-up has got to go! I need deep cleansing!
My belief is that one size DOESN'T fit all and if anyone makes a claim that their way is the only way, I'm naturally suspect because they aren't taking my unique qualities into consideration.
Secondly, I do believe that ALL hair needs cleansing. However, fine hair needs cleansing more often and more deeply because of build-up, while coarse hair needs less deep cleansing and deeper conditioning.
Finally, I believe that all hair needs conditioning as well.
Which type of conditioner, though? Light, fine hair needs light, protein-free hydration and dry, coarse hair needs deep, heavy and rich conditioning.
Now let's talk about the nuts and bolts of shampooing and conditioning…
How to Wash And Condition Your Hair Properly
As long as you start with non-toxic products for YOUR hair type, almost everyone should get great results following these guidelines (again, tweak to suit because everyone is slightly different!):
shampoo 2x each time you wash (to deeply clean and provide hair re-growth and strengthening ingredients and to heal scalp)
use a clarifying shampoo 1x/month, or as needed, to remove build-up or hard water deposits
use a deep conditioning masque 1x per week (or as needed) — protein-free or limited time for fine hair
for normal or coarse hair, leave a little conditioner in or apply leave-in conditioner at least to ends
use a microfiber or t-shirt towel instead of a regular bath towel (especially curlies) to prevent breakage, damage, and frizz
Styling Rules
Now, the styling "rules"… which again, tweak to suit your hair for the results you want.
no combs or brushes; only finger comb in the shower or wide-tooth comb (especially for curlies)
if you have fine hair, use less product to avoid build-up or flattening
apply styling products when hair is sopping wet (curlies), then scrunch dry with microfiber or t-shirt towel to remove styling product excess (especially curlies)
layer products from richest to lightest (cream, gel, mousse, etc.) and scrunch in while hair is wet (sopping wet for curlies)
don't touch hair when it's drying, not even to scrunch it, or it gets frizzy (especially curlies)
no heat tools …or at least reduce the heat!
if you do use heat tools, apply a heat protection product (since I recommend no-silicones products)
if diffusing, don't scrunch while diffusing — touch creates frizz!
sleep on a silk or satin pillowcase to prevent hair drying out or getting frizzy while sleeping or even contributing to breakage
on no-wash days, refresh with water and lavender in a spray bottle (fine hair) or apply styling products/butters (coarse/dry hair)
don't use harsh hair bands or repeatedly put hair up the same way all the time because it's damaging and contributes to breakage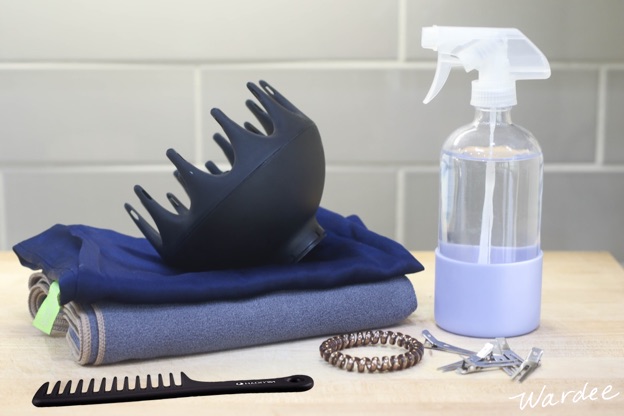 Styling Accessories I Recommend
This is a quick summary and lots of these accessories are especially great for curly hair. For more info, see my "How To Care For & Style Curly Hair" post.
Diffuser attachment — A diffuser allows you to dry hair while spreading out the air flow so that curls are preserved instead of blown out. However, most people do it wrong (as did I all growing up). See how to do it the right way in my "How To Care For & Style Curly Hair" post.
Silk or satin pillowcase — Did you know that what kind of pillowcase you sleep on matters? Yes! Because normal pillowcases, like cotton and cotton blends, cause itching, frizz, and tearing.
On the other hand, silk and satin are smooth, cool, and don't irritate or encourage frizz. I purchased this satin pillowcase right after learning this and the difference is astounding. Not only does my hair not itch me at night anymore, but I also don't wake up a frizz ball.
Microfiber or t-shirt towel — A microfiber or t-shirt towel is far superior to a terry cloth towel for drying your hair. Terry cloth introduces frizz and strips too much moisture from curly hair.
Wide-tooth comb — Lose the brush, which causes breakage and damage and can strip essential moisture from hair. Either finger-comb or use a wide-tooth comb.

Non-damaging hair clips — It's really important to avoid damaging your hair with harsh, tearing bands, clips, or ponytail holders. My favorite non-damaging clips are from Lilla Rose (pictured above). I always buy the plain-er ones but they have fancy, too. And many sizes… for just a bit of your hair to a full ponytail or updo, for thin fine hair to super thick.
My hair is on the fine/thin side, always has been. Pictured is an XXS clip (holding a tiny bit back). If I'm putting more of my hair back, I use XS for half back, or S for a ponytail/bun. Visit the Lilla Rose website for style and sizing ideas. Or reach out to me if you need any help (help at wardee dot com).
And here is me wearing the Lilla Rose Flexi Sport (right here), which I love best of all because it's more casual, waterproof, and grippy: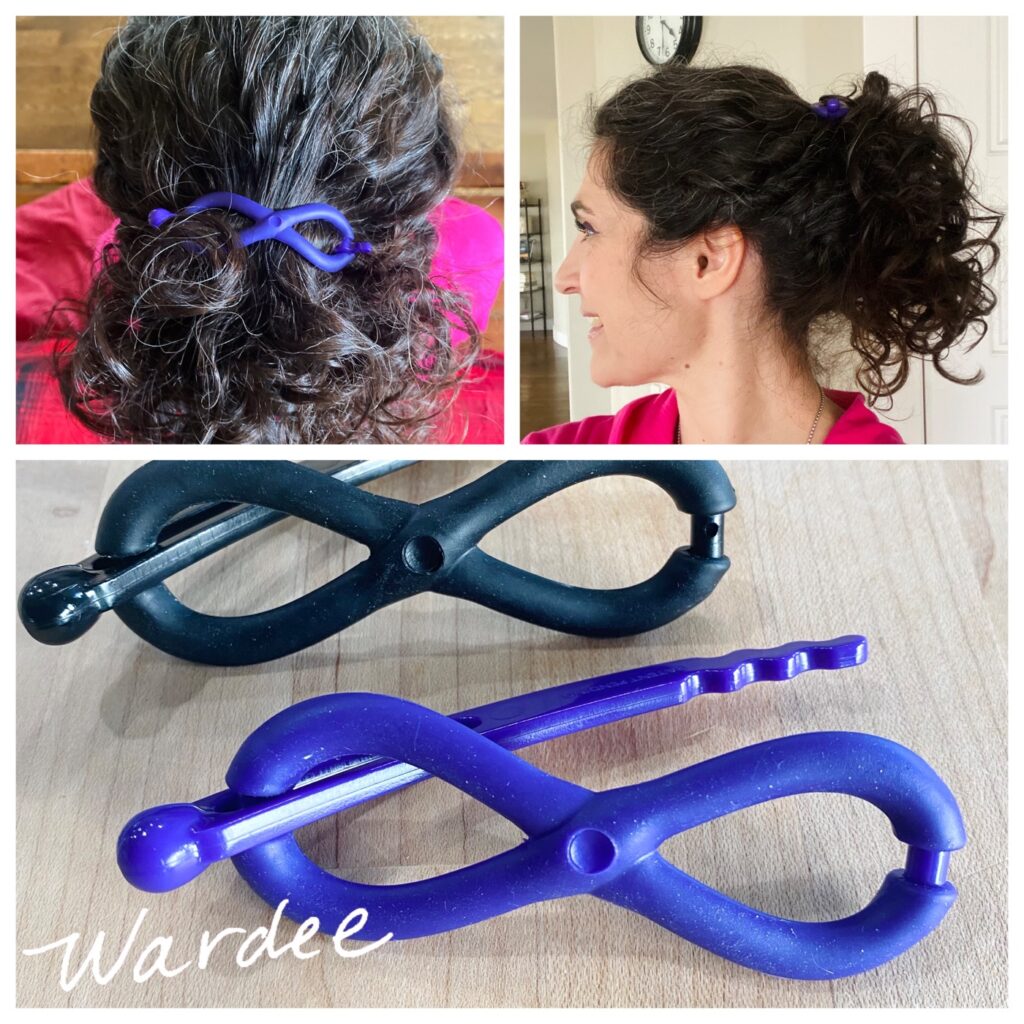 Gentle band like these telephone wire hair ties — No damage, no tearing, don't leave creases in your hair, and easy to get on and off. If you put your hair up in a pineapple at night, they work perfectly.
Double prong hair clips – You put double prong hair clips in small sections of hair along both sides of the crown of your hair to lift your roots and add body there (instead of the top of your hair being flat). It's called "clipping roots".
Spray bottle with water and lavender to refresh hair on no-wash days. Wonderful for fine, light hair when adding more product on those days doesn't work because it would cause build-up.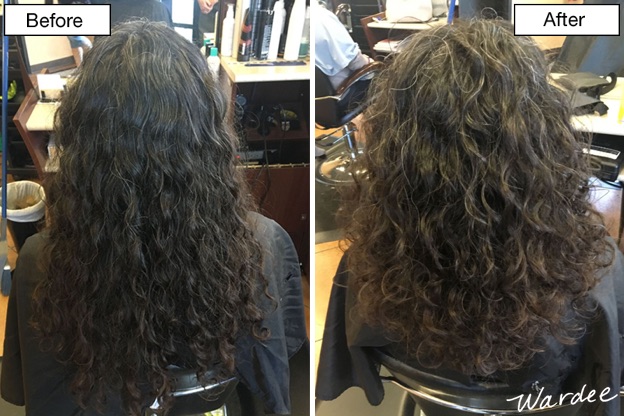 For Curlies: DevaCut
Yes! These stylists are trained in the BEST way to cut (and style) curly hair.
They cut your hair when it's dry and they cut it to best enhance your curls, whether a long or short hair cut. Generally, though, layers is the answer.
(Layers is another thing I have instinctively known since I was a teenager. With the exception of one time I got my hair cut as short as a boy's, I have always known that "long layers" was best for my hair.)
For more curly hair tips, see my "How To Care For & Style Curly Hair" post.
What About Silver Hair?
I became a convert to embracing my silver when I read the "Silver Hair Handbook" by Lorraine Massey.
You can brighten and soften your silver with the right products, good water, and regular clarifying and/or "purple" shampoo.
Previously, I was dismayed by the greys coming in and I feared looking "old." Now I know that using the right products, silver hair can be soft and not brassy.
Now when I see my silvers, I take it as a sign that I'm older and wiser (and better than I ever was!).
Is It Really Possible To Say Goodbye To Thinning, Lifeless Hair?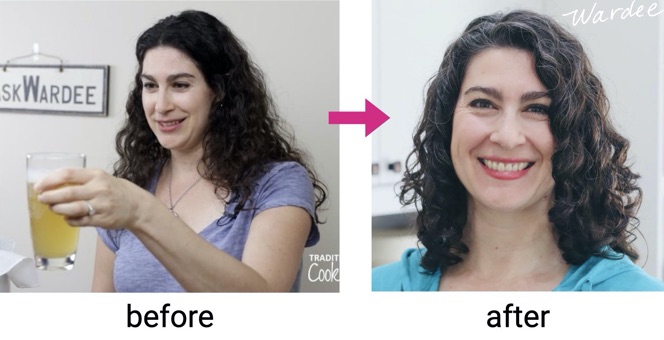 When I hit my 40s, I started to feel UNsexy, with wrinkly, sagging, and dull skin. My face hurt because it felt both tight/dry AND oily.
And my hair was awful… nearly every day was a bad hair day! It was dry, frizzy, tangly, and flat, and lost the shine and bounce I'd had when I was younger.
I was frustrated because I wanted to use non-toxic products (to avoid the headaches and rashes I got from most products before), but none of the "natural" things I was trying (both purchased and homemade) seemed to work.
Then I decided to try some other non-toxic skincare and hair care products I learned about on the internet.
Within a month of using the skincare products, my face felt perfectly hydrated (not too dry and not too oily… just like Goldilocks!) and I thought my skin looked brighter and younger.
And within a month of trying the hair products, my hair looked curlier, shinier, NOT frizzy, and was perfectly moisturized without being weighed down. EVERY day became a great hair day!
It's been nearly two years now for the skincare and nearly 6 months for the hair products… and I feel like I've found out how to turn back my clock a bit. I feel beautiful (and sexy!) …and my husband likes it, too. 🙂
Not only that, but people keep telling me that I look younger and they keep asking me where I get my hair done, not realizing it's the products I use, too!
Do you know anyone who might want to know about products like these?
If so, go to ByeThinningHair.com and go through the easy questionnaire and we'll take it from there!
Also, you're invited to my "How To Care For & Style Curly Hair … no more frizz" webclass!
More Examples of Great Hair Transformations!
Thank you to the following ladies who bravely shared their before/after photos to give us all hope that with using the right products for our hair type, we also can have great hair EVERY day!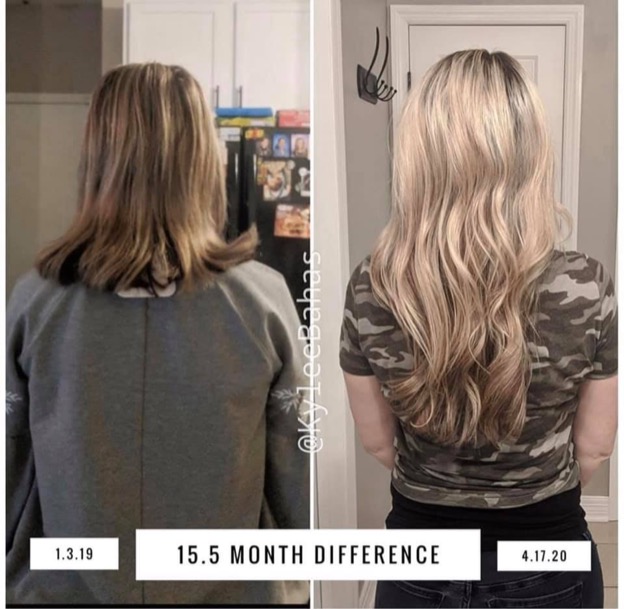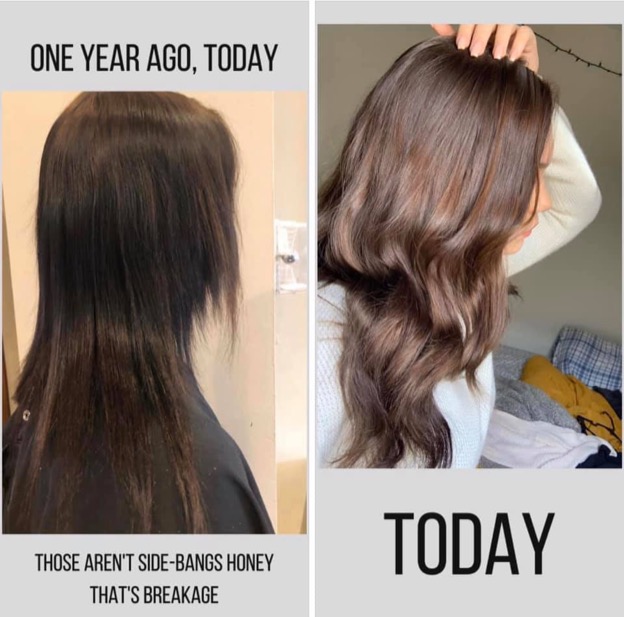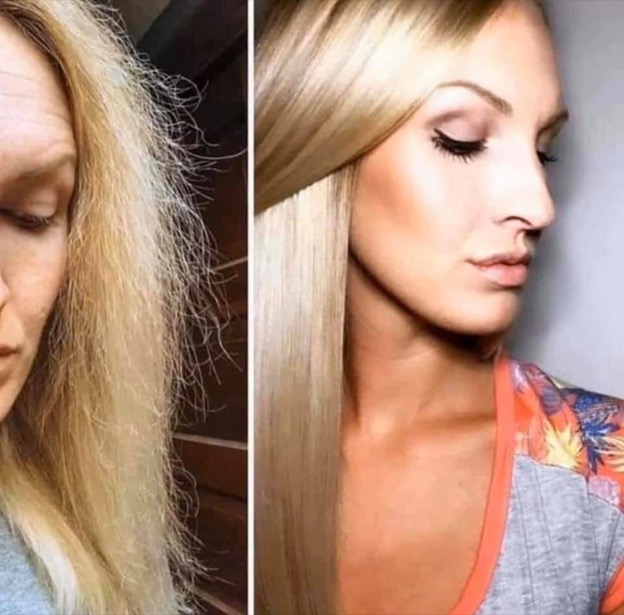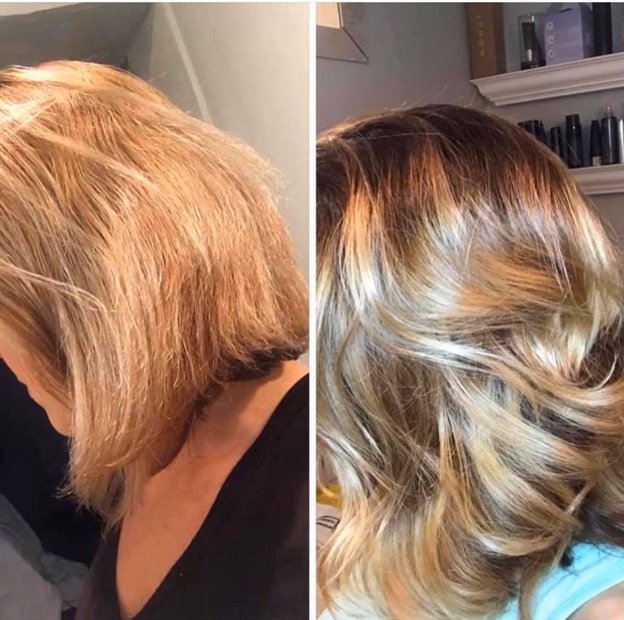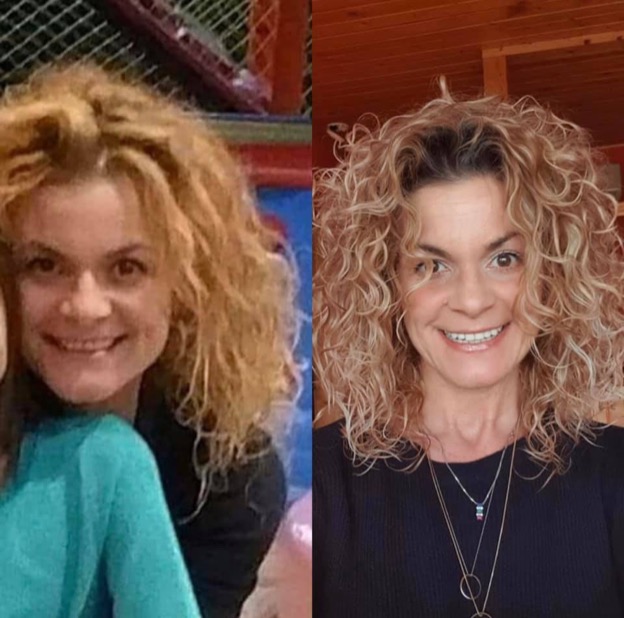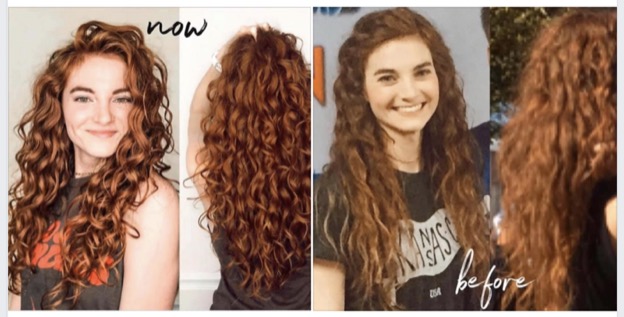 Helpful Links For Great Hair EVERY Day
And that's it! Thanks so much for joining me! I hope these tips help you get better and healthier hair. 🙂
If you'd like to work with me and/or find out if the hair products I recommend might help with your thinning, lifeless, frizzy, or problem hair… click here to go to
ByeThinningHair.com
to fill out a quick questionnaire and we'll take it from there!