Curls have a reputation for being a little unruly, a little unpredictable. Right?! Here's how to fix messed up curls so you don't have to just live with the rogue curl that dried like an antenna off the side of your head!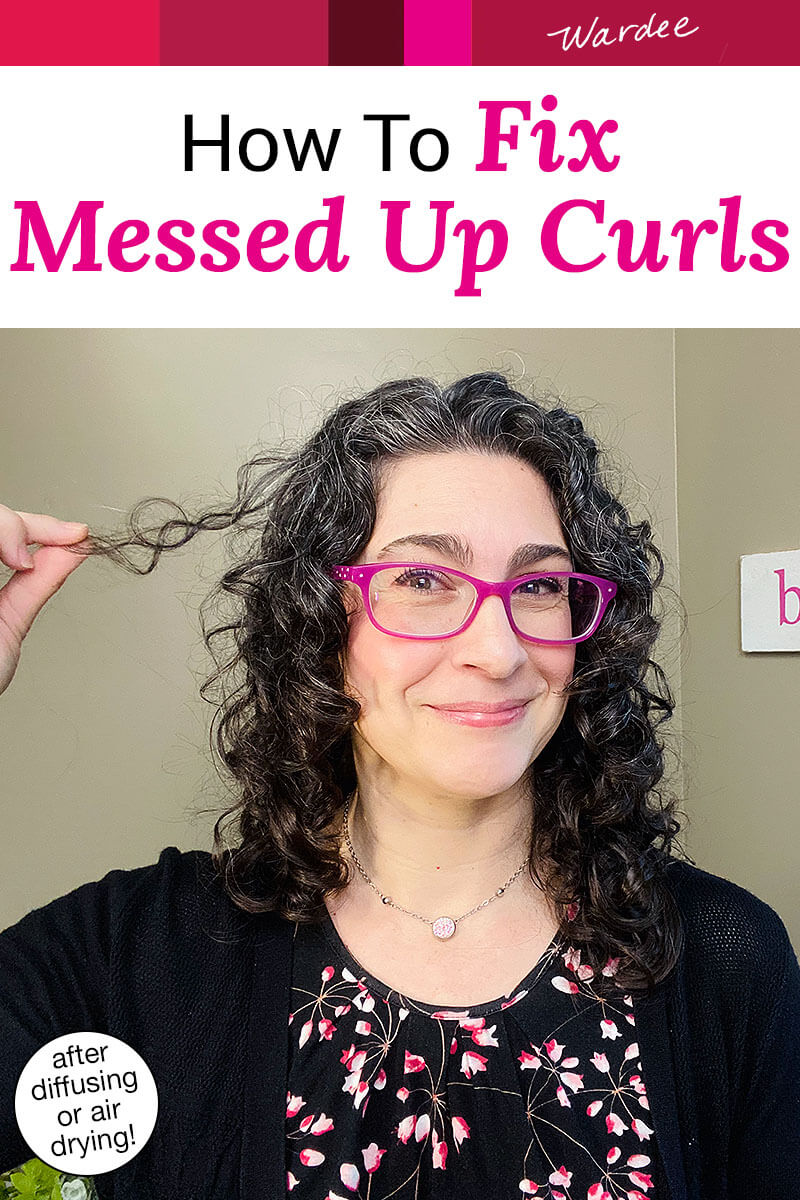 Curly friends, I think you will like this post. 🙂 It's a QUICK way to fix curls that didn't turn out right.
After styling your hair (whether you've air-dried or diffused it), amidst the clumped, well-defined curls you might notice one or more curls that just look funky.
Do you have to live with them? No!
Here's how to fix wonky curls!
Supplies Needed
You will need…
Spray bottle with water — The most important!
Gel — If you've already used gel on your hair, you may not need additional gel, but I do think a little bit of gel does help to reshape. So make sure to have your gel handy.
Fingers or a wet styling brush — You can reshape curls with fingers, or you can use a wet styling brush. Play with both to see what works. You can see the different techniques demonstrated above in my video.
How to Fix Messed-Up Curls
Separate the curl or curls that you're going to fix. Do this gently so you don't introduce frizz.
If there are several curls you need to fix, and they look like they come from the same spot on your head, you can fix them together. Or if you prefer your curl clumps smaller, you can split them up. Otherwise, if the curls are far apart, fix your curls separately.
Wet down the curl clump you want to fix from root to tip; it can't be at all dry. Hold away from your head when you do this so you don't get the rest of your hair wet. (You can hold a paper towel between the curl you're wetting and the rest of your hair, if you'd like.)
Put a smidge of gel in your hand. I have fine hair and use a pea-size amount of gel for my entire head in the morning, so one strand of my hair just needs a tiny, tiny bit.
Spray a little bit of water on the palm of your hair to dilute the gel, then rub it between your hands.
With your hands, run the gel along your completely sopping wet curl. Whether you finger comb or brush style, there has to be slip on your hair. No friction. Friction means there will be frizz.
Finger comb or use a wet styling brush to re-form the curl (see the video for how to do each). Pay attention to the direction your curl seems to want to go — is it curlier and "happier" curling toward your face or toward the back of your head? Help it curl the way it wants.
Gently remove fingers or brush from the curl as it unravels.
Gently scrunch the curl up to your scalp to encourage it to shrink up, then release gently.
Air dry … or diffuse just that curl.
Voila! A prettier curl!
Other Ways to Fix Messed Up Curls
What if your curls are dry, frizzy, flat, or…? Here are my best articles on all manner of hair issues!
1. What to do if your hair is frizzy.
Curly hair often goes hand-in-hand with frizz… but it doesn't need to be that way! Here's how to reduce frizz.
2. What to do if your hair is extra dry.
You can have dry hair even if you're using the most hydrating shampoo and conditioner. If that's you, it just means you need to give your hair extra love (read: deep conditioning). I share my best tips for preventing and staying on top of dry hair in this post.
3. What to do if you have bad hair days more often than good ones.
If you want soft, shiny, full hair… but it's frizzy, flat, greasy or dry instead… here are five reasons bad hair days happen, plus how to avoid them.
4. What to do if your hair is greasy and weighed down, even after wash days.
You most likely need to use a special clarifying shampoo to remove build-up on your hair and scalp from styling products, minerals in hard water, and/or oils your scalp produces. These deposits can make your hair appear dull, heavy, greasy, and limp. Clarifying shampoos give your hair a "reset" to restore its shine, softness, and manageability.
5. What to do if your hair is thinning.
With the rise of nutrient deficiencies and chronic stress, more people than ever are experiencing thinning hair and bald spots. In this post, I sat down with Rob English from Perfect Hair Health to discuss hair loss… and specifically how head massage can help thinning hair.
Need Help?
That is how you fix errant curls! The hair products are really important, too, so if you need advice on the right shampoo, conditioner, and styling products for your hair type and your goals,  go here to answer a few quick questions. No pressure from me, ever.
Or… feel free to text me at 1-208-516-3615 or reach out by email right here.
God bless you!